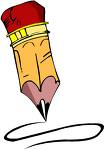 A WELL STOCKED WRITING CENTER INCLUDES… 
Chalk
Colored, medium, and soft lead pencils
Crayons
Markers
Paper:
…..Lined and unlined
…..Assorted Colors
…..Textures, Sizes and Shapes
Pens with variety or ink colors
Envelopes
OTHER MATERIALS:
Alphabet and Word Puzzles
Alphabet Stamps
Black Boards
Clip boards
Computer/Printer
Erasable marker boards
Etch-a-sketch
Index cards
Journals
Magic Slates
Magnetic Letters and Boards
Puppets & Scripts
Printed forms
Post cards
Sand/Salt Tray
Shaving Cream
Stencils
Tape Recorder/Player
Type Writer/Computer
BOOK AND CARD MAKING
Contact Paper
Picture Cards
Wallpaper
Wrapping Paper
Used Greeting Cards
Tools for Book/Card Making
Envelopes
Glue
Hole Puncher
Stapler
Stickers
Yarn
 BOOKS
LITERACY ENRICHMENT
Drama Club click here for ideas
Foreign Language Class or Club All you need is one semeter to facilitate a Language theme Club! Teach greetings, numbers, simple phrases.
Reading Clubs
Sign Language Classes
Themes Built around a Book click here for ideas
Place literacy materials in play centers
---
Provide a print rich environment where children can see the purpose and use of the written language. Also, label everything in the room!
---
Provide a well stocked library. If shelf space is not available for books, consider using tubs. Label the tubs with a sticker that corresponds with stickers on the books. When  children are done reading their books—they return them to the correct container. Example: Animal books and tubs each have a blue sticker.
---
LITERACY CATEGORY MENU