Valentine Party Food and Snack Ideas for Kids
Need some valentine party food and snack ideas? Enjoy this collection of 35 snack ideas for kids. These will be great for the classroom or for other valentine's events
1. STRAWBERRY MICE (Too cute not to put here!!!)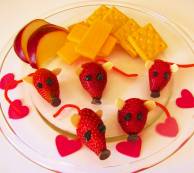 Ingredients: Fresh strawberries, Mini chocolate chips, Black decorators' icing, Almond slivers, Toothpick, Red lace licorice
Cheese (Your choice)
For each mouse, slice a small section from the side of a strawberry so it sits flat.
Press a mini chocolate chip into the tip for a nose, using a small dab of icing to secure it in place, if needed.
Add icing eyes and stick 2 almond slivers into the top of the berry for ears.
For a tail, use a toothpick to carve a small hole in the back of the berry and push the end of a piece of licorice lace into the hole.
These cute 'berry mice' are wonderful served alone  as a treat… or with an assortment of cheese, crackers and other fruit! …(These were made for my 6 and 9 year old grandchildren and they loved them!) Image by KidActivities.net 
---

2. 'REALLY EASY' VALENTINE COOKIES
Preheat oven to 200 degrees.
Place vanilla wafer cookies 1-inch apart on an ungreased cookie sheet.
Set a Hershey's Chocolate Kiss (and/or Hugs) on the center of each cookie.
Bake at 200 degrees for 5 minutes. (Or until Chocolate Kiss is very soft) If you are also using 'Hugs candy–keep in oven a minute or two less. The Hugs melt much more quickly than the Chocolate Kiss.
Remove from oven and gently press an M&M candy or a candy heart into the center of the softened Hershey's Kiss or Hug.
Put cookies in refrigerator and allow them  to cool completely to let the chocolate harden again. (Image by KidActivities.net)
NOTE: In KidActivities experience, the hug was taken out a bit early– however it continued to melt on the cookie as demonstrated in the image…it still tasted good!
These are much like the 'Hugs and Kisses' on pretzels that is featured lower on this page. Personally…I prefer the pretzel version; however, these are very quick and simple for children to make with assistance. Children also like the taste of vanilla wafer cookies.
---
3. 'HEART SHAPED' SANDWICHES
Ingredients:
Cream cheese, softened
Red food coloring
Bread
Heart cookie cutter
Jam – strawberry or raspberry
Add a few drops of red food coloring to the softened cream cheese and mix until the color is a light pink throughout.
Cut bread into heart shapes with the cookie cutter.
Spread cream cheese on the bread and top with the jam. (See image of pink toast at page bottom-the heart-shape with strawberry jam on it …looks similar.)
_____________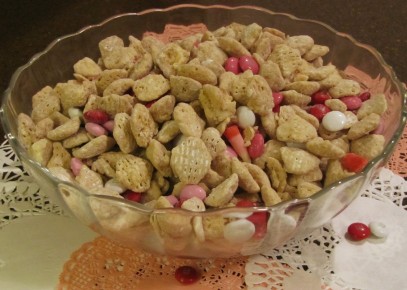 4. VALENTINE LOVE CHOW~ Really good! (Recipe can be doubled–these directions show the amount in the image)
5 cups Chex® cereal
1/2 cup white vanilla baking chips plus 2 Tablespoons chips
1/3 cup peanut butter
2 1/2 tablespoons butter or margarine
1/3 cup powdered sugar plus 2 Tablespoons
1/2 cup red, white and pink candy-coated chocolate candies (M&Ms) Additional candy can be tossed in as desired.
Optional: 2 Tablespoons red or pink jimmies sprinkles…KidActivities did not use 'jimmies' but added some candy corn in the colors of red/white/pink
Place cereal in large bowl.
In small microwavable bowl, melt vanilla chips, peanut butter and butter uncovered on High 1 minute (or until melted and smooth) It's important to keep watching as not to overcook mixture.
Pour peanut butter/white chocolate/butter mixture over cereal, folding over gently until evenly coated.
Add M&M candy–and optional red/white/pink candy corn.
If bowl is large enough, add powdered sugar and gently fold it into the cereal mixture.  If bowl is not large enough, place cereal in a paper bag with the powdered sugar and gently shake until cereal is covered.
Add optional sprinkles at this time. Place mixture on waxed paper or foil; cool and set about 15 minutes. Store in airtight container.
NOTE: When first made– the mixture tasted very sweet. It was actually better the second and following days. (The cereal 'absorbs' the mixture as it sits.) Both children and adults said 'yumm' to this goodie! We'll be making it again next year!
Additionally, the cereal seemed a bit dry when KA first added the white chocolate, peanut butter, and butter mixture to the cereal…. KA then mixed and micro-waved more ingredients to add to the cereal. (Hence the added Tablespoons to list) This made the "Love Version' more like the well known 'Chocolate Puppy Chow' we all love. (Image by KidActivities.net)
---
5. VALENTINE RICE KRISPY SQUARES
Ingredients:
1/2 cup Butter
10 cups Crispy rice cereal
9 cups Miniature marshmallows
2 cups Candy Heart if desired (the tiny red spice type)
Candy Hearts (the ones with messages)
3/4 c Miniature chocolate chips
Red food coloring
Melt butter and marshmallows; stir until smooth.
In a large bowl, mix rice cereal, candy hearts(spiced tiny red ones) and miniature chips together.
To marshmallow mixture, blend in 2 drops red food coloring, adding more coloring if necessary to reach desired shade.
Add marshmallow mixture to cereal mixture; stir quickly to combine. Spread on a large buttered pan; press with buttered hands.
While warm, press on candy heart (with messages) spaced 1 to 1/2-2 inches apart.
Refrigerate and cut into squares.
---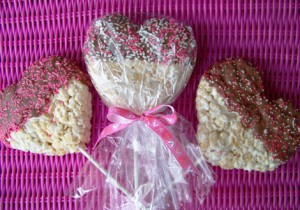 6. RICE KRISPY VALENTINE POPS
Make Rice Krispie Squares according to recipe. Once the Rice Krispies are made, cut them into hearts using a Valentine cookie cutter.  Place a popsicle or candy stick into each cut-out rice krispie. Place the Rice Krispies in refrigerator or freezer for five to ten minutes. The coolness of the rice krispies will help the chocolate (directions are below) to adhere quickly and easily to the treats.
Melt chocolate. (You can melt 2 large candy bars or your favorite chocolate.) When treats are sufficiently cool, dip each rice krispie heart.  Sprinkle (with sprinkles) each treat immediately after dipping in chocolate being careful to keep them upright while drying. No Fuss suggests placing the dipped choclate treats in a tall glass to dry instead of placing them on wax paper. Eat and enjoy or if giving for a gift–finish the Valentine treats by covering them with cellophane and a bow.
---

7. FRIENDSHIP FRUIT SALAD… Nice idea  for school or child care programs…
♥ Ask each child to bring in a piece of fresh fruit or a can of fruit. Have them chop the fruit with a plastic knife.
♥  Mix all together in a big bowl and serve.
♥ Optional: top with miniature marshmallows or even add some dry vanilla pudding and shredded coconut to the fruit to make it special.
♥ The extra cans of fruit left over can be donated to the local food pantry.
---
8. VALENTINE 'COOKIE GRAHAM'
Ingredients: a Graham cracker, pink frosting, (put red food coloring into white frosting) Alpha Bits cereal, small candy hearts
Directions:
♥ Frost Graham cracker with pink frosting.
♥ "Write" your message (I Love You or your name, etc.) using the Alpha Bits and placing them on the middle of the frosted cracker.
♥ Decorate the boarder with candy hearts.
---
9. HAND-DIPPED CANDIES
Microwave high-quality chocolate in a bowl
Dip any of the following items to make chocolate candies:
Cookies, marshamallows (see dipped marshmallow image below), dried fruit, granola bars, pretzels, peanuts, caramels or cherries.
♥ To avoid messy hands, you may want to try dipping some of them with skewers or toothpicks.
♥ Place the chocolate candies on a cookie sheet that has been covered with wax paper and refrigerate or freeze until they harden.
You may also be interested in the EASY MAKING CANDY category… There are more tips on 'dipping' on the 'Candy Page'.
---
10. DOUBLE CHOCOLATE MARSHMALLOW POPS
20 /sucker/lollipop sticks (found at cake decorating or craft stores)
20 large marshmallows
1 cup (6 oz.) Nestle Toll House Premier White Chips/Morsels
1 cup (6 oz.) Nestle Toll House Milk Chocolate Chips/Morsels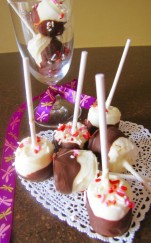 Line baking sheet with wax paper.
Push each sucker stick halfway through a large marshmallow; set aside.
Melt white morsels according to package directions. Immediately dip 10 marshmallow lollipops lightly in the melted morsels for a thin coating.
Set the stick side up on prepared baking sheet.
Melt milk chocolate morsels according to package directions. Repeat dipping process as above with remaining marshmallows.
Refrigerate marshmallow suckers for 10 minutes or until hardened. (TIP: KidActivities also added about a half teaspoon of shortening –such as Crisco–into each chocolate before micro-waved– to make it more smooth when stirred.) Image by KidActivities.net
Makes 20.
Optional: Colored sprinkles/jimmies can either be sprinkled on top of the white chocolate layer– or the bottom chocolate layer.
NOTE: Next time I'd use a Styrofoam block or glass in which to insert the sucker sticks.  Laying the 'double dipped' marshmallows on the wax paper (sticks up) creates a flat bottom.(Barb)
---

11. EASY but YUMMY CHERRY TREATS
Ingredients:
1 Package Cupcake Paper Holders
1 Pound Cake or sponge cake (Sara Lee type in the States)
1 Can Cherry pie filling
1 Can or carton of whipped topping
Cut cake into small cubes.
Place cubes at the bottom of each cupcake holder. (Tip: double or triple the holders)
Plop a spoonful of cherries on top of the cubed cake pieces.
Keep chilled. When you are ready to serve dab the top with whipped topping and enjoy.

Using the cupcake holders is a great idea when making this with children. However, for a larger serving the cherry dessert can also be made in individual bowls.  A nice Valentine's Treat! (Images by KidActivities.net)
(There are also CHERRY RECIPES in the CHERRY THEME  near its page bottom….)
---
12. RED 'CREAM CHEESE' DIP 
♥ Blend one tablespoon brown sugar into a container of strawberry cream cheese.
♥ Dip strawberries, red apple slices and cherries into the spread.
____________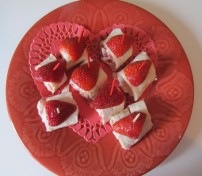 13. VALENTINE ROLL-UPS
Have children spread strawbery cream cheese and strawberry jam onto a tortilla- then roll the tortilla up like a log. Have children use the plastic knives  they used to spread the cream cheese and jam– to cut the rolled up tortilla into sections.  If children do not like either the cream cheese of the jam–omit it…
Optional: Place strawberies halves on top of rolls (Image by KidActivities.net)
---
FOR OTHER Valentine Day Snacks consider…
14. RED JELL-O jigglers with cool whip and sprinkles or have children use heart shaped cookie cutters to cut out hearts from the Jell-O.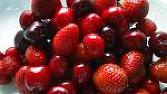 ♥ RED FRUIT (apples, strawberries, cherries, raspberries, etc.)
♥ Red/pink fruit JUICE
♥ SANDWICHES:
Use a cookie cutter to cut a heart shape into one piece of bread. Make a peanut butter and jelly sandwich using the heart-shaped cutout slices as the top piece.
♥ Heart shaped KRISPIE TREATS: Make normal recipe of Rice Krispie treats, but add red food coloring to butter/marshmallow mixture…Cut out with heart cookie cutters. If you do not have heart cutters you can either use a knife to cut them out or cut out a square and shape with your hands.
♥ Valentine's PUNCH
1 liter of Raspberry sherbet, 1/4 cup of pineapple juice, 2 liter sprite.
Put the sherbet in the punch bowl; it works best if it is half melted. Next add  pineapple juice. Wisk them together making a smooth texture. Last, add the sprite slowly, mixing continuously until the punch bowl is full.
The punch tastes good and you can use different colors of sherbet for different occasions.
♥ Heart-shaped snack cakes or cookies
♥ Valentine candy
♥ Cheese slices pressed with heart shaped cookie cutters…
---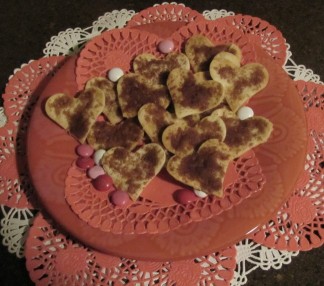 15. SWEET TORTILLA SHAPES
Using small fun shaped cookie cutters (in this case hearts for Valentine's Day) cut shapes out of a flour tortilla.
Place on non stick cookie sheet and lightly brush with a little melted butter.
Lightly sprinkle (you only need a little) with a mixture of 1 part cinnamon and 3 parts brown sugar.
Bake in a moderately hot oven for 10 minutes for a sweet and crispy treat.
NOTE: These are light and crispy and really good! The treats can be made any time of the year, with any shape.  Be sure your cookie cutters are sharp enough to easily cut through the tortillas. KA will definately be making versions of these again and again!!! (Image by KidActivities.net)
---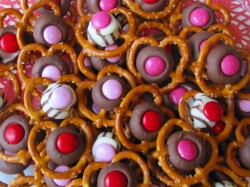 16. EASY VALENTINE PRETZELS ~ HUGS & KISSES…
Hershey's Hugs chocolates
Hershey's chocolate kisses
3 (10 ounce) bags checkerboard windowpane or round shaped pretzels (or adjust the amount of pretzels to the number of treats you'd like)
1 (large pound size) bag M&Ms plain chocolate candies.  Use Red and Pink for Valentine and other colors to match other holidays
Directions: Preheat oven to 170 degrees.  Place pretzels on a parchment or waxed paper-lined cookie sheets in a single layer. DO ONLY ONE TYPE OF CANDY PER SHEET because the Hugs melt faster than the kisses.
Unwrap Hugs or Kisses, place one on each pretzel, repeat for an entire cookie sheet.
Place cookie sheets in the preheated oven, bake 4 MINUTES FOR THE SHEET OF pretzels and HUGS, 5-6 minutes for the pretzels and KISSES. Remove from oven and immediately put a M&M on top of each pretzel/chocolate, pressing down gently. When pressing down you may need to wiggle the chocolate around a little to fill in any gaps between the chocolate and the pretzel. This will help the chocolate stick to the pretzel.
Place cookie sheet in freezer or refrigerator until the chocolate is reset.  If this is a gift…wrap either in cellophane bags, a tin or a candy box. (Image by KidActivities.net)
---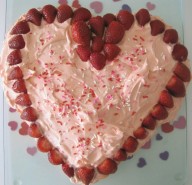 17. HEART SHAPED CAKE (14 inches wide and 12 inches long)
This cake can be made using ANYflavor mix and any frosting. KidActivities made a strawberry Jell-O poke cake with Cool Whip/pudding frosting. (Recipe is below)
Don't have a heart shaped cake pan?
…Simply use one sqare pan and one round pan. Follow baking directions on cake mix box. Place the cooled sqare cake at a 'diamond' angle–and cut the cooled round layer in half.
As in the first image…place each half of the round cake at the upper sides of the 'diamond angled' square cake.
---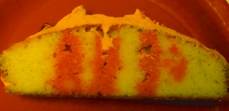 18. JELL-O POKE CAKE RECIPE
1 pkg. (2-layer size) white cake mix
1 cup boiling water
1 pkg. (3 oz.) JELL-O Strawberry or Raspberry Flavor Gelatin
1/2 cup cold water
(Even though the cake mix KidActivities used was white–I used three whole eggs and not just the whites)
Prepare cake batter and bake as directed on the package for 8″X8″ size pans.
Cool cake in pan 15 min. Pierce cake with a straw or large fork at 1/2-inch intervals.
Make Jell-O
Add boiling water to gelatin mix; stir until completely dissolved.
Stir in cold water; pour into the holes if using straw method– or over cake if using fork. The method of putting Jell-) over cake/into holes is your choice.
Refrigerate 2-3 hours.
FROST cake with the "below recipe", Cool Whip, or whipped cream.  After frosting– leave as is or decorate with strawberries or raspberries. Refrigerate 2 hours.
The cake above was trimmed in strawberries that were cut in half… pink and white 'jimmies'  were sprinkled in the center.
NOTE: This cake should be served cold and right out of the refrigerator! The cake slice shown above–was the first slice from the bottom point of the cake…
---
19. BASIC RECIPE for  'COOL WHIP and INSTANT PUDDING' FROSTING
1 cup milk
1 (3 1/2ounce) package instant pudding mix, any flavor
1/4 cup powdered sugar
8 ounces Cool Whip
Pour milk into bowl add pudding mix and sugar.
Beat with wire whisk or mixer on low for 2 minutes. Cool in refrigerator until it is thickened.
Gently fold in whipped topping.
NOTE: KidActivities used a 6 1/2 oz. box of pudding mix with 2 cups of 2% milk. A couple drops of red food gel coloring and 1/4 cup powdered sugar was added.
The pudding mixture was refrigerated a couple hours and then about 8 oz. of cool whip was gently folded in.
As the above cake is very large (Almost 14 inches wide and about 12 inches long)– more topping was needed than the basic recipe calls for.
---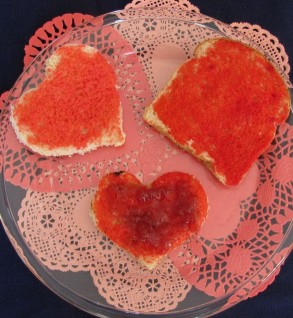 20. PINK 'PAINTED' TOAST (Art and snack in one)
Mix milk with small amount of red food coloring. (You don't need much of either to do a few slices of bread) Have children paint the bread and then then toast it. Put out  strawberry jam to go with it!
NOTE: Be sure children do not soak the bread. Just paint lightly so the bread will toast nicely. The image shows three stages of the pink toast.
♥ The heart on the left is bread that is only painted.
♥ The full slice of bread on the right has been toasted and has nothing else on it.
♥ The bottom heart has been painted and then toasted. Strawberry jam has then been spread on the toasted bread-heart.
♥ One 'heart shape toast' was spread with butter and then eaten before it made the 'shoot'. Yumm (Images by KidActivities.net)
---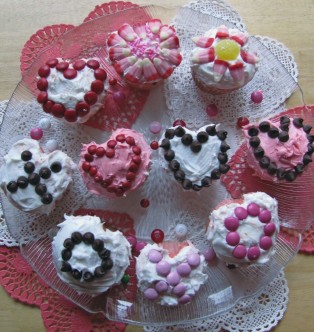 21. DECORATE VALENTINE CUPCAKES or COOKIES…
Set out either unfrosted heart shaped cookies or cupcakes. Add tubs of ready-made frosting, paper plates, plastic knives and whatever food decorations are available. Next let the kids have fun creating their own Valentine treats!
KidActivities put out strawberry cupcakes, white and pink frosting, chocolate chips, mini and regular size M&M's, pink and red candy corn and sprinkles…
The result is a variety of 'hugs and kisses' (O's and X's) hearts, and pink candy corn designs. Fun! (Image by KidActivities.net)
Personal Note: Just like a child, I'd eat off all the candies first–and then enjoy the delicate cake! (Barb)
TIP: If you place 'a marble' behind  batter- filled cupcake liners (in a cupcake tin) the indentation will make a heart shaped cupcake. The bottoms are still rounded, but the top of the cupcake goes into a heart shape. The marbles are not affected in the oven!
---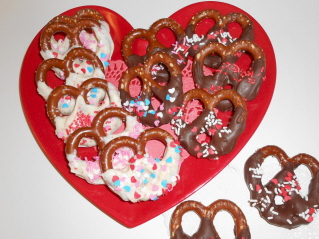 22. DIPPED PRETZELS FOR VALENTINES DAY or ANY Holiday/Season
Using the below directions… dip pretzels and then sprinkle with 'jimmies' to match the season. I just made these–and they are ohhh-so good!
The white chocolated pretzels were dipped in Wilton's Vanilla with peppermint candy circles. The chocolate dipped pretzels were made using  Nestle semi-sweet chocolate chips. (Image by KidActivities.net)
---
23. WHITE CHOCOLATE DIPPED PRETZELS
1 lg. bag large pretzels  (KidActivities likes Snyder Pretzels)
1 lbs. white chocolate
Melt chocolate in microwave as package shows. Dip pretzel in chocolate and place on wax paper; let cool. To change the color of the chocolate, add food coloring before dipping.
24. LARGE CHOCOLATE DIPPED PRETZELS
12 oz.) bag chocolate chips
Large pretzels–Not rods
Melt chocolate and dip pretzels in chocolate leaving about 1/2-inch space at top of pretzel to hold. Lay on wax paper and let set.
TIP: When melting chocolate for dipping- I add about a teaspoon to teaspoon and half of vegtable shortening such as 'Crisco' to the chocolate. (The amount of shortening depends on the amount of chocolate being melted.) Do not use liquid shortening. 
I also microwave in short intervals. If chocolate is heated too long it will become hard. I don't have half power on my microwave-so I use the 'defrost setting'—starting with one minute and adding 25 to 30 seconds as needed. Usually when ready, the chips will still have shape; however, when stirred they melt down. (Barb/KidActivites)
---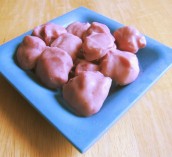 25. YOGURT KISSES
This is a quick, healthy and refreshing snack!
Simply take yogurt–the sample used a small container of regular raspberry Activa but any brand or color that is pink will do. Drop it by small teaspoons onto a plate or cookie sheet covered with wax paper. Place in freezer and ta-daa…yummy and nice yogurt kisses!
When frozen keep in covered container or plastic baggie and return to freezer.
If you would like a perfect "button shape"–put yogurt in a baggie. Snip of a corner of the bag and squeeze out perfect round shapes. Be sure to keep small;  they are eaten with fingers and melt quickly. (Image by KidActivities.net)
---
Valentine Themed Drinks 

These recipes are from KidActivities Smoothies, Shakes and Coolers Category! Check out the page for some good 'Smoothe Making' tips and ideas…
---
26. CUPID'S DELIGHT CHERRY FLOAT
Cherry 7-up, vanilla ice cream, whipped cream and a maraschino
cherry on top.
---
27. CHERRY COKE SUPREME
Ingredients:
1 12 OZ Coke
1 T Cherry Grenadine
1 T Maraschino Cherry juice
1 Maraschino Cherry
Combine the first three ingredients by mixing slowly so as not to disturb the bubbles in the soda. Pour in tall glass over ice and top with Maraschino Cherry.
---
28. CHERRY JELL-O SMOOTHIE
Small package of Cherry Jell-O
1/2 Cup milk
1 Cup cherry yogurt
1/2 cup fruit of choice (pitted cherries, banana, etc.)
1/2 cup ice cubes
Put all ingredients in blender and mix until smooth.
---
29. CHERRY LIMEADE
1/2 cup lemon lime soda
Juice of 2 limes
1 tsp cherry juice
1 maraschino cherry
Squeeze lime juice into a tall glass.
Add soda and cherry juice and stir well.
Add a maraschino cherry on top!
---
30. EASY FRESH BERRY SHAKE
1 cup milk
½ banana, sliced
¼ cup fresh berries
Combine all ingredients in a blender and mix well. Makes 4 to 6 small servings.
---
31. LOTS OF BERRIES SMOOTHIE
1/2 cup frozen strawberries
1/2 cup frozen blueberries
1/2 cup frozen raspberries
1/2 cup apple juice
1/2 teaspoon lemon juice
1/2 cup nonfat frozen yogurt
1/2 cup ice
Directions:
Combine all ingredients in blender; mix until smooth and frothy.
---
32. TRIPLE RASBERRY SMOOTHIE
1 cup frozen concentrated raspberry juice
1 cup frozen raspberries
1 cup vanilla yogurt
1 cup cold water
1 teaspoon raspberry jam
3 ice cubes
Directions:
Combine ingredients in blender and blend until smooth. Pour into glasses and serve immediately with drinking straws.
---
33. RASBERRY SMOOTHIE
1 cup orange juice
1 cup raspberry yogurt
1 cup vanilla frozen yogurt
1/2 frozen banana (chunks)
1 1/2 cup frozen raspberries
Place all ingredients into a blender in the order listed. Blend at a low setting for the first minute, then the high setting until smooth.
---
34. COCONUT-STRAWBERRY FIZZ
This is cool and creamy, but light—with strawberries, coconut milk and a nice soda fizz.
Ingredients:
1/2 cup coconut milk
4 cups frozen strawberries
3 Tbsp sugar
1 cup club soda
Combine all ingredients in blender and process until smooth. Pour into two tall glasses.
---
35. I LOVE STRAWBERRIES MILKSHAKE
1 cup milk
6 scoops strawberry ice cream
2 tablespoons confectioners' sugar
1/2 teaspoon vanilla extract
1 tablespoon strawberry ice cream topping
1 tablespoon whipped cream, optional
Fresh strawberries, sliced, optional
Directions
Combine first 5 ingredients in blender and blend until smooth. Garnish with whipped topping and sliced strawberries.
---
Click here for all Valentine pages linked together: Art/Crafts, Snacks, Games, Songs, Jokes
---
SaveSave