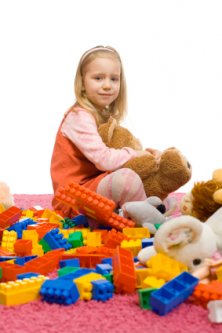 HOW FAST CAN WE DO IT? You can say:
Let's beat the clock!
Beat yesterday's time. Can we get everything put away before the music stops?
♥  To remind children of how much time is left use a timer, hour glass, or clock.
Remember young children don't have the concept of time down yet; it would be a good idea to also use a timer of some sort.
When using a clock as a reminder with young children—say, "When the big hand is on the two, we will start to clean up".
---
♥  With younger children, put their photographs next to job assignments.
---
♥   If a child takes out a great many play things, it can be overwhelming when it's time to put them away; remind children to take out only what they are able to clean-up when finished. This is especially important with younger children
---
At one observed ECH site, a Kindergarten child walked to each group of children before clean-up time, holding a sign saying, "5 Minutes to Clean-Up Time!" The other children acknowledged the sign-holder by saying, "Thank-you." This program has a weekly job chart with the 5-minute to clean-up reminder being one of the children's tasks.
---
♥ Twinkle, Twinkle, Clean Up Song

Twinkle, twinkle, little star,
Time to clean up where you are.
Put each toy back in its place,
Keep a smile upon your face.
Twinkle, twinkle, little star,
Time to clean up where you are.
---
♥ Sing the following to the tune of "I'm a Little Teapot"
I'm a little helper
See me clean…
I can pick-up
and not be mean!
When we're finished
You will see…
A nice clean room
for you and me.
---
 ♥ I SPY CLEAN UP Play 'I Spy' to clean up scraps on the floor after an art or messy project.
Visually identify a scrap on the floor without telling the children which one and say, 'I Spy.'
Kids pick up scraps and the child who finds the one you're looking at gets a sticker or small prize.
Keep playing the game and giving small goodies until all scraps are off of the floor.
Kids like the game and it's a fast fun way to clean a room.
---
♥ A variation on getting "young" children to clean up is pretending to be vacuum cleaners. You can do this a couple ways.
Put a "spell" on the room.
"Dinner will be franks and wieners, make these children vacuum cleaners! Poof!!!" People who have used this— say the children will ask them to put the spell on them, and they hurry to get things cleaned up.
---
♥ Ask children to turn themselves into vacuum cleaners! Put out your arms and make vacuum cleaner sound effects while the hose (your arms) picks up all the toys, paper or anything else you need picked up! The children forget they are cleaning.
---
♥ When cleaning up, Play 'Go-Go-Stop'.  Children will think it great fun when you say Stop! When 'Stop'is said, children freeze in whatever position they are in.  If time, comment on a few…
---
♥  Magic Pick-Up Lotion for Pre K-K: Hand lotion and a little glitter in a small bottle works like "magic" in getting youngsters to pick up the toys. You might also try using a small bottle of hand sanitizer with glitter inside for some extra cleaning power.
---
 ♥ Stamp younger children's hands when they participate in clean-up.
---
♥ Turn 'clean up time' into a game.
Have a adult close their eyes and ask the children to surprise them by putting toys away. Have  children tell when you should 'peek' and see the clean room. Comment along the way…  "Is it almost done?"  "Can I peek?"  "I'm getting so excited!"
I've also observed something similar where "clean-up" was the time for the lead teacher to use the 'rest-room'. The remaining caregiver challenged the children to complete the group task. The children eagerly worked together! They had fun and loved how happy their teacher was each day when she came back!
---
♥ Have each child pick up 5 items (or whatever number needed) in an area. Before you know it–it's all cleaned up!
---
"PUT AWAY THE OLD…"
This is another practical tip!
It's a good idea to post what is expected from the children. Talk to them about being responsible in cleaning up after themselves–and post reminders. (This can be a combination of pictures and words.) Put something like the sample up at various play supply and activity areas.
When a child forgets–all you have to do is point to the sign! Along the way they'll also learn to read the words!
---
♥ Tess the Mess – Dress a person (the children don't know) in an extremely messy (not poor or dirty) fashion and ask her to come to the program and 'help' the children clean up. (Everything she's brought with her is a mess; she never puts things away.) Have her fumble and act confused as she helps the children. "Now where does this go?" Next discuss why it's important to clean up! (Not being able to find things; items get lost or broken, etc.) The children may talk about "Tess the Mess" for days as they clean up.
---
♥ Practice/Rehearse Speedy Clean-up:
Deliberately spill a box of paper clips.
Provide children with several items for cleaning up the spill, for example, broom, masking tape, dust pan, magnet, etc.
Let the children experiment with each item to determine which item picks up the paper clips most efficiently.
---
♥ At the beginning of 'setting good clean-up habits'… help children pick up. Say… "Do you want to pick up the little blocks or the big? " Then model clean-up behavior-until they can do it on their own.
---
OH,OH–DID YOU FORGET TO COVER YOUR TABLE TOPS DURING MESSY ART?
Try this when your art and craft tables get messy with glue, paint, or_____
Spread non-mentol shaving cream on the table tops and let the children finger-paint away on the table! They'll be having fun and loosening all that dried glue mess at the same time.
When the table is clean–wipe down with paper towels. Follow this with wet cloth–rinse and dry the kids' hands too!
---
FOR ALL AGES… There's No Need to Stress over Mess!
One person's clutter is another person's nightmare! No amount of nagging by parents or teachers can change disorderly kids-but when given a choice, children can be less messy and more organized
.
First Consider:
1.
Design your program
 (classroom or home playroom)
to make it easy for the kids to clean up! Use shelves, clear bins, color codes and tubs that are neat, labeled, and organized.
---
2. Model good organization and "clean-up" behavior. If you don't pick up after yourself, what does that say to the kids? Don't expect the children to straighten out their play areas when your own desk and supply areas are disorderly. Double standards don't work! Organization in an environment needs to be the responsibility for all in that area-not only for a select few…
---
3. If the day will be difficult for some reason, keep clean-up simple by avoiding the messiest and hard-to-clean-up activities.
---
4. Never make clean-up tasks punishments. It can, however, be a consequence of an action (such as a child getting too wild at the painting table). When possible, try to frame a task as a reward.
---
TIPS…
1. Let children know how much time is left – give a warning at ten minutes and then at five minutes; give kids time to shift gears so they can reach closure. Example: If a child has been designing a structure with manipulatives, they need time to adjust and dismantle it.
2. Giving kids this time shows you value and respect their efforts. Children often have a difficult time with transitions; try using this first attention-getting step. If you neglect this, and try to move straight from one activity to the next, you will be setting some children up for failure.
3. Not all activities require the same amount of time to clean up. Begin things such as messy art and block areas before easy clean up is started.
---
ASSIGNING TASKS
A clean program room is everyone's responsibility at all times.
Emphasize that everyone needs to help keep it tidy. Make clear what the jobs are and how to do them.
Don't assume the children know how to clean up –some may not ever have had this responsibility at home.
Go over your expectations explicitly with the children.
---
IDEAS…
1. To keep routine and random program tasks from interrupting smooth transitions, put each child's name on an index card or deck of cards. When a job or an errand comes up, pick the top card and ask that child to take care of it. After you've gone through the deck, shuffle it and start over.
2. From Michelle~ We write each child's name on a Popsicle stick and place all sticks in a cup. When it is TIME TO PICK A SPECIAL HELPER of the day we choose a stick. We take the chosen stick out of the cup until all sticks have been picked. This way we don't have to remember who we have chosen and ensure none of the kids have been overlooked or picked twice!
3. A "Job Squad". A rotating job chart can be very useful in fair job distributions. Each week children are assigned, or sign-up, for an organization responsibility. This can also include "checking" to see if it's been done.
---
You may also be interested in:
What are some of your favorite transition methods?  Thank you…
SaveSave
SaveSave