Part Two of Four: PROSE,  POEMS, and other things~ Every once in awhile–put something the below ideas in your newsletter or post at your 'Family Information Center'!
GREAT TRUTHS ABOUT LIFE THAT LITTLE CHILDREN HAVE LEARNED 
Author Unknown
No matter how hard you try, you can't baptize cats.
When your mom is mad at your dad, don't let her brush your hair.
If your sister hits you, don't hit her back; they always catch the second person.
Never ask your 3-year old brother to hold a tomato.
You can't trust dogs to watch your food.
Reading what people write on desks can teach you a lot.
Don't sneeze when someone is cutting your hair.
Puppies still have bad breath even after eating a tic tac.
Never hold a dust buster and a cat at the same time.
School lunches stick to the wall.
You can't hide a piece of broccoli in a glass of milk.
Don't wear polka-dot underwear under white shorts.
The best place to be when you are sad is in Grandma's lap.
---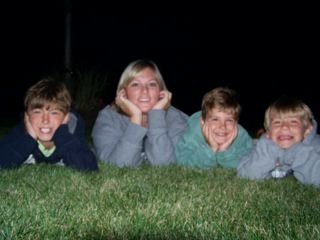 Things to do BEFORE You're TEN!!!
…….this is a wonderful page to give to parents. Put it in a newsletter, at your parents center or best yet—as a gift. Print it nicely with some clip-art–roll it up– and tie with ribbon or raffia as a gift from your program! :-
1. Roll on your side down a grassy bank
2. Make a mud pie
3. Make your own play dough mixture
4. Read under the bed-covers with a flashlight
5. Make home-made potpourri
6. Grow flowers or herbs on a windowsill
7. Make some bird feeders
8. Build a sandcastle
9. Climb a tree
10. Make a tent in the living room
11. Make a painting using your hands and feet
12. Organize your own teddy bears' picnic
13. Have your face painted
14. Play with a friend in the sand
15. Make some bread
16. Make snow angels
17. Create a clay sculpture
18. Take part in a scavenger hunt
19. Camp out in the yard
20. Bake a cake
21. Feed a farm animal
22. Pick some strawberries and apples
23. Recognize five different bird species
24. Find some worms
25. Ride a bike through a muddy puddle
26. Make and fly a kite
27. Plant a tree
28. Build a nest out of grass and twigs
29. Find ten different leaves in the park
30. Grow vegetables
31. Make breakfast in bed for your parents
---

IF I HAD MY CHILD TO RAISE OVER AGAIN
If I had to raise my child all over again,
I'd finger paint more, and point the finger less.
I'd do less correcting, and more connecting,
I'd take my eyes of my watch, and watch with my eyes.
I would care to know less, and know to care more.
I'd take more hikes and fly more kites.
I'd stop playing serious, and seriously play.
I'd run through more fields, and gaze more at stars.
I'd do more hugging and less tugging.
I would be firm less often, and affirm much more.
I'd build self-esteem first, and the house later.
I'd teach less about the love of power,
And more about the power of love.
By Diane Loomans
---
TO EVERY PARENT
There are little eyes upon you,
And they are watching night and day;
There are little ears that quickly take
In every word you say;
There are little hands all eager to do
Everything you do,
And a little child who's dreaming of
The day he'll be like you.
---

NEWSLETTER BLURBS FOR SPECIAL TIMES OF THE YEAR
FYI FOR NOVEMBER PARENT NEWSLETTER OR POSTINGS!
NOVEMBER 8TH IS DEAR SANTA DAY… Here are two FREE websites that do E-mail 'Dear Santa' letters.  First one has some other "Santa things"…the second is the most simple–but very sweet.
http://www.emailsanta.com/ really fun site!!!
---

TURKEY DAY WISH…This would be really cute for your November Newsletter (October if you live in Canada) or posted at your 'Info Center'. It could also be said at your Turkey-Day  table!!!
MAY YOUR STUFFING BE TASTY,
MAY YOUR TURKEY BE PLUMP.
MAY YOUR POTATOES AND GRAVY HAVE NARY A LUMP.
MAY YOUR YAMS BE DELICIOUS,
MAY YOUR PIES TAKE THE PRIZE,
MAY YOUR THANKSGIVING DINNER STAY OFF OF YOUR THIGHS.
---
The month of NOVEMBER hosts 'World Kindness Day and Week'. FEBRUARY celebrates 'Random Acts of Kindness Week'. Consider the following in a newletter or handout…children are always learning from the adults around them!
WHEN YOU THOUGHT I WASN'T LOOKING
When you thought I wasn't looking, I saw you hang my first painting on the refrigerator and I immediately wanted to paint another one.
When you thought I wasn't looking, I saw you feed a stray cat and I learned that it was good to be kind to animals.
When you thought I wasn't looking, I saw you make my favorite cake for me and I learned that the little things can be the special things in life.
When you thought I wasn't looking, I saw you make a meal and take it to a friend who was sick and I learned that we all have to help take care of each other.
When you thought I wasn't looking, I saw you give of your time and money to help people who had nothing and I learned that those who have something should give to those who don't.
When you thought I wasn't looking, I saw you take care of our house and everyone in it and I learned we have to take care of what we are given.
When you thought I wasn't looking, I saw how you handled your responsibilities, even when you didn't feel good and I learned that I would have to be responsible when I grow up.
When you thought I wasn't looking, I saw tears come from your eyes and I learned that sometimes things hurt, but it's all right to cry.
When you thought I wasn't looking, I saw that you cared and I wanted to be everything that I could be.
When you thought I wasn't looking, I learned most of life's lessons that I need to know to be a good and productive person when I grow up.
When you thought I wasn't looking I looked at you and wanted to say, 'Thanks for all the things I saw when you thought I wasn't looking.
---
Include seasonal recipes such as this in your Newsletter…Be sure to check out the loads of fun recipes in the 'Snacks Category' on every left side page and every season and Holiday page!

WITCHES GORP
3 cups eyes of Newts (peanuts)
2 cups tails of dogs (pretzel sticks)
1 cup squishy, slithery parts of frogs (raisins)
2 cups warts of toads (Cheerios)
1/2 cup lizard lips (walnuts)
1 cup dinosaur toenail chips (banana chips)
1 cup teeth of bats (sunflower seeds)
1/2 cup of dandruff from the biggest rats (coconut)
1 cup chocolate cover iguana hearts (chocolate chips)
Measure and combine all of the ingredients in the order listed above. Mix well with mixing spoon. Source: Cooks.com
---

Cute for DECEMBER NEWSLETTER! Funny!  
'CHRISMAS CAROLS' AS INTERPRETED BY KIDS! 
A teacher in Atlanta asked her students to write the words to their favorite Holiday/Christmas Carols; here are some of the humorous lines she received:
Deck the Halls with Buddy Holly
De three kings of porridge and tar
On the first day of Christmas my tulip gave to me
Later on we'll perspire, as we dream by the fire.
He's makin a list, chicken and rice.
Noel, Noel, Barney's the king of Israel.
With the jelly toast proclaim
Olive, the other reindeer. (all of the other reindeer)
Frosty the Snowman is a ferret elf, I say
Sleep in heavenly peas
In the meadow we can build a snowman, Then pretend that he is sparse and brown
You'll go down in listerine
Oh, what fun it is to ride with one horse, soap and hay
O come, froggy faithful
---
Something for your WINTER Newsletter— or to post all done up with clip-art – for your Info/Family Center…
WHAT I LEARNED  ABOUT LIFE FROM A SNOWMAN…
It's okay if you're a little bottom heavy.
Hold your ground, even when the heat is on.
Wearing white is always appropriate.
Winter is the best of the four seasons.
It takes a few extra rolls to make a good midsection.
There's nothing better than a foul weather friend.
The key to life is to be a jolly, happy soul.
We're all made up of mostly water.
You know you've made it when they write a song about you.
Accessorize! Accessorize! Accessorize!
Don't get too much sun.
It's embarrassing when you can't look down and see your feet.
It's fun to hang out in your front yard.
Always put your best foot forward.
There's no stopping you once you're on a roll.
---
DR. SEUSS DAY MARCH 2~ PUT OUT IN FEBRUARY… 
Doing a 'Dr. Seuss theme' …and reading a lot of books you don't have?
Consider adding to your February newsletter or …SENDING HOME THE FOLLOWING 'WISH LIST' POEM. Cute and fun for parents to read with their child!
What's that you say?
We're reading Dr. Seuss books.
And we're starting today!
Do you have some Dr. Seuss books?
Send them in-don't delay!
Yes, we're reading his books.
Send them in right away!
May we borrow your books?
Can we look at them please?
Any Seuss book you have
Would fill us with glee!
Please print your name in
Every book that you send.
We'll send the books back
When we've come to the end!
---
NICE FOR YOUR MARCH NEWSLETTER!

AN IRISH BLESSING
Leprechauns, castles, good luck and laughter…
Lullabies, dreams and love ever after.
Poems and songs with pipes and drums…
A thousand welcomes when anyone comes…
That's the Irish for you!
---
FUN FOR MOTHER'S DAY
WHEN I'M A LITTLE OLD LADY…
I'll live with my children and bring them great joy
To repay all I have had from each girl and boy.
I shall draw on the walls and scuff up the floor
Run in and out without closing the door.
I'll hide frogs in the pantry, socks under my bed
Whenever they scold me, I'll just hang my head.
I'll run and I'll romp, always fritter away
The time to be spent doing chores every day.
I'll pester my children when they're on the phone
As long as they're busy, I won't leave them alone.
I'll hide candy in closets, rocks in a drawer
And never pick up my clothes from the floor.
I'll dash off to the movies and not wash a dish
I'll plead for allowance whenever I wish.
I'll stuff up the plumbing and deluge the floor
As soon as they've mopped it, I'll flood it some more.
When they correct me, I'll lie down and cry
Kicking and screaming, not a tear in my eye.
I'll take all their pencils and flashlights, and then
When they buy new ones, I'll take them again.
I'll spill glasses of milk to complete every meal
Eat my banana and just drop the peel.
Put toys on the table, spill jam on the floor
I'll break lots of dishes as though I were four.
What fun I shall have!! What joy it will be!!
To live with my children — Like they lived with me!!!
Author unknown
---
Nice for JUNE Newsletter…(FATHER'S DAY)
Footprints
"Walk a little slower, Daddy,"
said a child so small.
"I'm following in your footsteps
and I don't want to fall.
Sometimes your steps are very fast,
Sometimes they're hard to see;
So walk a little slower, Daddy,
For you are leading me.
Someday when I'm all grown up,
You're what I want to be;
Then I will have a little child
Who'll want to follow me.
And I would want to lead just right,
And know that I was true;
So, walk a little slower, Daddy,
For I must follow you."
~ Author Unknown
---
SUMMER AND ANYTIME OF THE YEAR VACATION TIME…
Here's something your parents will thank you for! Copy and Paste a few ideas for your newsletter or Info center… or send families the link to HAVE FUN WHEN TRAVELING WITH KIDS! Lots of good tips, games, ideas.
---
SECTIONS FOR NEWSLETTER CATEGORIES ARE:
Click for the Entire Newsletter Category
Part 1. What to Put in Newsletters (Be sure to read this page!) Good tips and Ideas!
Part 2. Prose, Poems and Cute items for Newsletters
Part 3. Timely Newsletter Topics to Connect Kids and Parents
Part 4. Newsletter Topics of Health and Food
---