Literacy is most commonly defined as the ability to read, spell and communicate through written language. However, in a more general sense, literacy is more than just the ability to read or write. It means being able to view, listen, read, comprehend, evaluate, speak, and write effectively and systematically.
Incorporating some of the  following language art activitiesinto your School Age Classroom and After School Programs will help youth approach reading and writing as fun and exciting activities. Children use reading to learn about a wide range of subjects, and they use writing to share their own ideas. Activities such as these will help stretch imagination and stimulates interests. It is one of the most important skills a person can have! How skillfully and successfully children develop their reading skills and grow towards literacy may influence their beliefs about their personal worth and abilities for a lifetime!
Because literacy develops along a personal continuum, same-age children may display varying levels of skills.  Because of this, plan activities that are adaptable for all levels within mixed ages programs!
_________________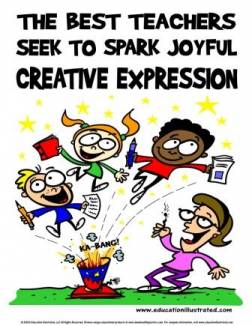 LANGUAGE ARTS MENU
• For all linked 'Creative Literacy' pages (excluding Pre-K) Click Here

 • Pre-K to Grade 1 Ideas & Activities (Four pages linked together)
• Literacy: Games and Creative Story Telling
•  Literacy with Games, Music, Jokes and Twisters!
 • Literacy Based Gifts for Kids to Make
• Something Different with Literacy: Cooking; Build a Theme around a Book; Word of the Day; Survivor and More!
• Literacy Games for a Theme, Season or Holiday
• Writing and Language Center Ideas
_________________
Also on this site for 'Literacy Based' Activities is…
___________________________