Disclosure: This post may contain affiliate links, meaning I get a commission if you decide to purchase through my links, at no cost to you. As an Amazon Associate, I earn from qualifying purchases. Read the full disclosure here.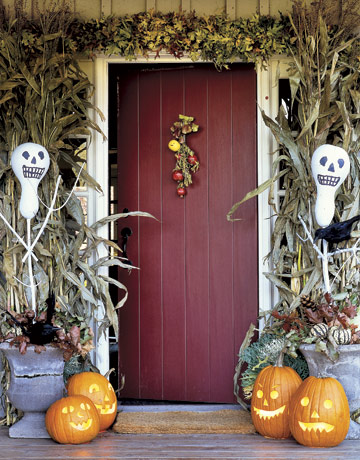 CREATE A WONDERFUL ENTRANCE…
Make your front door season-appropriate, framing it with dried corn husks and a garland of oak leaves. Ghostly bottle-gourd scarecrows were painted white, with features added in black felt tip, and then speared on sticks and "planted" in Styrofoam blocks inside urns…Source: Country Living Magazine
Remove the white ghourds–and jack-o-lanterns and you're ready for Thanksgiving!
PUMPKIN ADDRESS!
Select one pumpkin per house number and cut a hole in the top of each.
Clean pumpkins out- saving the tops–wipe exteriors dry. Center paper stencil number (these are 5 inches tall) on the first pumpkin and adhere with painter's tape.
With a marker, trace the stencil outline, then carefully carve just outside the line with a small handsaw or heavy-duty craft knife. Repeat for each number.
Arrange a few tea lights inside each pumpkin, then line up or stack in proper order. Replace top on the highest pumpkin. Illuminate tea lights using a long-handled lighter through the holes.
Source:  sunset.com
PAINTING ON THE NUMBERS……You wouldn't be able to insert tea lights–but a similar effect could be achieved by painting on the numbers!
---
MR. AND/OR MRS. PUMPKIN An easy and fun idea for your lawn, porch, classroom, or center!
Pull out some old trousers or overalls and long-sleeved shirts or blouses. Once stuffed, the resulting bodies look remarkably lifelike. You can also deck out Mrs. Pumpkinhead in a dress (if you first clothe her in pants and then drape the dress over the pants).
Once you've assembled the wearing apparel, begin shaping the bodies. Fasten a rubber band around the bottom of each pant leg to close off that opening. Pack the trousers with some filler material such as straw, leaves, rags, or wads of crumpled newspaper…
Next, secure the shirt sleeves at the cuffs and stuff the arms…button the front and pad out the chest area.
When the body is complete, prop the lower portion of the scarecrow-like body in an armchair, on a bale of hay or on a bench.
Rest the upper torso in place. At this point, it's a good idea to join the two sections by pinning the trousers to the shirt or blouse in several places. Your Halloween house guest will be more likely to stay in one piece.
Tip for the Head…
Carved and hollowed heads will soon shrivel and mold, so allow your pumpkin people to keep their seedy brains. They'll last through the end of autumn!
To start…You may want to first practice drawing facial designs on paper.
When you find one you like – dry the pumpkin with a towel or paper towel. Using a felt-tip marker, outline features. You can fill in with paint to provide extra color.
For a finishing touch (hair), top off with some straw, yarn, grass,or an  old mop.
Carefully, set the head down on its body. With a well-placed poke or two you can push the wadding about until each 'head' balances where a head ought to be.
Add a scarf, gloves, hat, and boots, shoes, or galoshes!
---
GIANT SPIDER WEB — Great indoors or out!
Weave your own web with black clothesline. (You could also use white) Simply pick a point for the web to begin and tie lengths of line onto a large eye hook. Pull each line taut and secure at the opposite end with a tack. Knot additional line across to complete the web.
SPIDERS AND WEBS #2
You can set the stage for your spiders by picking up some webbing—it's really cheap, and stretches a LONG way! Put it in corners of rooms or porches, or stretched over a door!
TO MAKE SPIDERS… 
Purchase large black pom poms and large black chenille stems.
1. Take 4 chenille stems and twist them together in the middle. This creates the eight legs. Bend the stems downward about halfway down each leg.
2. Using tacky glue or a glue gun — secure a large pom pom in the center of the legs at the twist to form the body.
3. You can glue on google eyes or cut scary red eyes from felt or craft foam.
4. Set the spiders in their webs; you can also bend the leg tips and attach them to a picture frame or a lamp chain.
With this project, the bigger, the better, so buy the largest legs and pom poms you can find!
---
HALLOWEEN/AUTUMN CANDLE HOLDERS…
Anchor pillar candles in a bed of candy corn or black and orange jelly beans for seasonal touches. Mix in with fall follage, ghourds and pumpkins!
You can also place small votive candle holders in larger holders. Next  fill the outer votives with freshly squeezed blood (2 teaspoons corn syrup mixed with 3 teaspoons water and several drops red food coloring). Center smaller votives in this…
---
STACKED PUMPKIN MAN…
This snowman-like sculpture sports two stacked pumpkins on top of a large pedestal urn. Feather-trim hair under the felt hat and an old shirt collar and buttons make up his kooky apparel. If you have a staircase, combine vines and craft-store grapevines with delicate Chinese lanterns and plastic bugs and curl them up the banister.
---
CREEPY-CRAWLIE WINDOWS…
For eerily lit windows, cut sheets of yellow waxed floral tissue paper to fit the pane, and tape in place. Cut spider silhouettes out of black craft paper and hang against the backdrop for a menacing effect.
---
REPLACE USUAL ARTWORK… 
with photos, posters, or tiles of Halloween themed images:
Bats, Black cats, Witches, Toads, Wolves, Jack-O-Lanterns, Owls, etc. Take down some your present art and replace with Halloween and Autumn themed. You can additionally 'lean' tlles and small prints against walls on cabinets and counters…
---
GLOWING GHOSTS
Materials:
Round, white balloons, cheesecloth cut to lengths of about a yard, and glow sticks. This sample used green, 4-inch glow sticks, found in party supply stores or on-line.
1. Activate a glow stick and insert it into a balloon.
2. Position the knot at the top of the balloon, and use an indelible black marker to draw the eyes and a mouth.
3. Drape the cheesecloth over the balloon, cut a small hole and push the knot through the fabric. Secure with string and hang in the breeze. Source: Readers Digest
YOU COULD ALSO… tie small glow sticks to string attached to helium balloons and let them sail over your house for spooky lights in the sky. Make sure to tie off the strings to something solid so they do 't get away!
---
GHOST LANTERNS…
Great for a walkway or porch…
Materials
Clean plastic gallon milk jugs,  Black permanent marker, Craft knife, String of 50 clear low-wattage holiday lights
1. Draw ghost eyes and mouths on the jugs. Tip: Leave the caps on while you do this, so the jugs don't dent.
2. Use the craft knife to cut a half-dollar-size hole in the back of each jug (a parent's job).
3. Arrange the ghosts near each other and string the lights between them, stuffing several bulbs into each of the jugs.
Source: FamilyFun
---
PUMPKIN CARVING TIP….
After you have carved your pumpkin wipe Vaseline along the cut edges – this will help preserve your pumpkin.
---
JACK-O-LANTERN WITH DRY ICE
Materials Needed: Large pumpkin
Large glass
Hot water
Salt
Dry ice
CAUTION: Handle dry ice only while wearing heavy duty gloves. Dry ice is extremely cold
(-109 F) (-78.5 C) and can cause instant frostbite. Use extreme caution. See our dry ice safety page for more safety information.
Choose a pumpkin large enough to hold a large can inside. Clean out the pumpkin and carve a friendly or a frightening face. Keep in mind, carbon dioxide fog sinks, so more fog will flow out of the mouth of your jack-o-lantern than through its eyes.
When you are done cleaning out and carving your pumpkin, fill a large glass about half full with hot water and mix in a cup of salt. Try to find a glass that is taller than the eyes of your jack-o-lantern, to get fog to flow through all the carvings. Place the glass inside the pumpkin. Wearing gloves, drop two or three large pieces of dry ice into the cup of water. Replace the top of the pumpkin. You want the lid to fit tightly so there won't be air currents dissipating the fog. As the water cools, it will be necessary to start over with hot water to maintain the fog effect.
As a rule of thumb, one pound of dry ice will create 2-3 minutes of fog effect. The hotter the water, the more fog but the quicker dissipation of the dry ice. (Source: continental carbonic)
---
OTHER 'QUICK' HALLOWEEN DECORATING TIPS…
As kids' Halloween decorating goes, the more the merrier and anything goes! There are plenty of inexpensive and widely available Halloween decorations to purchase. Kids like a spooky theme, but keep the atmosphere cheerful and fun for younger children. Children will enjoy lending a helping hand with making decorations for decorating the house/center for Halloween. They'll also have plenty of creative ideas to offer.
Choose low level LIGHTING for a really spooky atmosphere when decorating for Halloween…candles, illuminated pumpkins, miniature twinkle lights.
DRAPE black, white or orange netting over every conceivable surface. Use lots of COBWEBS…
Create arrangements in corners, on tables, chairs etc, of Halloween THEMED OBJECTS: pumpkins, witches, skulls, cats, ghosts, etc.
Outdoors…Plant two fake novelty FEET upside-down with the feet sticking up or one or two fake HANDS reaching upwards in your Halloween cemetery.
Use a plastic cauldron partially filled with hot water, then add some DRY ICE and a glow stick to create an eerie centerpiece for your table. Be careful handling the dry ice! It can burn skin very easily. (Directions are at page bottom of Decorating a Mad Science Lab.
Looking for something to hang from the ceiling? Remember the old stand-by of PAPER CHAIN loops. In shades of orange and black of course! (If you do orange–you can leave them up all fall!) Also, orange and black balloons and streamers…
JACK-O-LANTERNS…What's Halloween without a jack-o-lantern? Use stencils to carve or paint a variety of faces on  pumpkins to add the traditional touch to your party.
Decorate ORANGES and/or nectarines with a felt pen, for effective and fun 'mini pumpkins'
COFFIN…Use your imagination! You can build your own coffin with 6-8 wood pieces and place a dummy in it. Or consider having it closed and place a fake arm coming out of it. Add some fake blood to the side for a gross effect.
Create CENTERPIECES by filling vases with dried flowers, brown leaves, and empty branches. Tie a black ribbon bow around each centerpiece.
Use mini ears of Indian corn, mini pumpkins and gourds to EMBELISH your Halloween party table. They also make excellent arrangements for an autumn table.
BLACK LIGHTS add an eerie touch to a party. You can find them all year round. Use florescent lights as opposed to screw in bulbs which are not true U.V. light.
Purchase rolls of 'YELLOW CAUTION TAPE' (the type you see at crime or disaster scenes to keep people out of taped areas. It's fairly inexpensively and can be purchase at most hardware stores. Put it up around the perimeter of your yard. Place a sign stating something such as "Fright Scene-Enter at Your Own Risk."
CRUNCHING BONES underfoot…Spread some dried bread and pretzels under a rug. As guests walk across the rug it will sound like crunching bones underfoot!
TOMBSTONES…Perhaps one of the creepiest things is a tombstone with the inscription R.I.P. which is reminiscent of old-time graveyards believed to be haunted according to old myths and urban legends. You can find tombstones in the holiday section of most stores around Halloween, or make your own and add some originality!
SOUND EFFECTS
Purchase a CD of Halloween sound effects and /or music…or make your own! Record several scary sounds and play it back during the festivities.
A very large sheet of poster board or sheet metal makes great thunder.
Uncooked rice poured onto a cookie sheet sounds like rain.
Crinkle a handful of cellophane for a roaring fire.
To get a good scream you can, well — scream.
Snap carrots in half for the sound of breaking bones.
Flap a plastic bag in front of the microphone for the sound of bats.
Slowly blow bubbles with a straw into a bowl for a bog sound.
---
Having a Halloween Party? Consider a 'Mad Science Theme. 'MAD SCIENCE THEME' is here.…and 'DECORATING A MAD SCIENCE LAB' is here…Lots of fun ideas!
Additionally, check out the Halloween Food and Snack Category! Creepy-crawlie, wormy, squishy and gross looking foods– add loads of fun to a party!!! Your foods and table will also be a decoration.
---
PUT UP A HALLOWEEN TREE!
A unique but effective decoration is a HALLOWEEN TREE. Manufacturers turn out strings of outdoor lights for almost every holiday…so it won't be hard to find orange lights and other spooky decorations for your tree.
Check  local home improvement centers or large department stores. Take a standard artificial Christmas tree as your starting point and then let your imagination run wild.
Black painted tree branches secured in pots also work great!
One easy decorating idea is to take standard Christmas ball ornaments (such as the decorations on the branch tree) in fall colors…and apply Halloween and Autumn stickers to them!   Image of pumpkin tree by Suzi T on Flickr
Kids will have a wonderful time helping to create skeletons, bats, witches, and all the other assorted characters that have a special place at Halloween time to hang on your tree.
---
EASIEST OF ALL JACK-O-LANTERNS!
Just draw faces on the pumpkins in washable markers (you can wipe off errors) and then fill in with black permanent markers! How simple but effective!!! Image Source: GoodHousekeeping
---
Interested in other Halloween Fun Ideas?! Check out…
SaveSave