Graduation Songs for Kids 
A collection of graduation songs for kids in school. These song ideas are great for kid in preschool, kindergarten, and high school graduation. Picking a good graduation song really helps set the atmosphere for the exciting day.
♥ Play these graduation songs during a slideshow…
♥ During any transitions…
♥ While audience is entering and leaving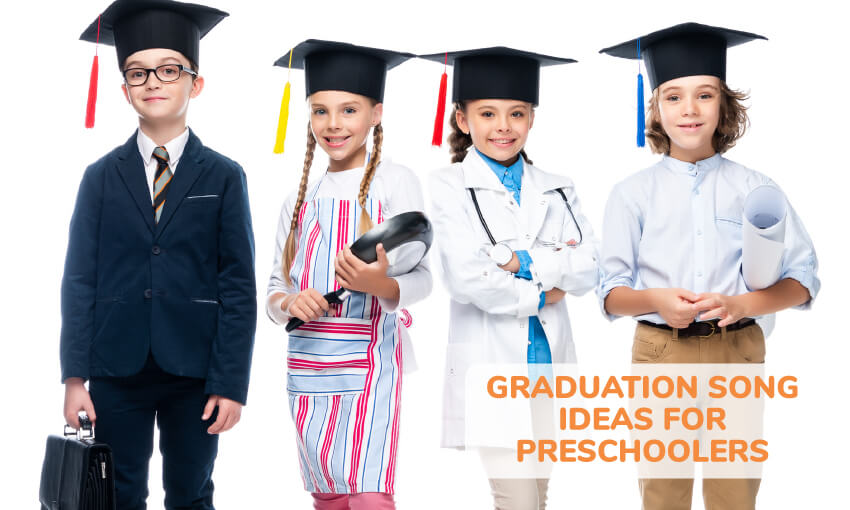 Alice Cooper– School's Out
Amy Grant– I Will Remember You
The Bangles– Hazy Shade of Winter
The Beach Boys–Be True to Your School
The Beach Boys– Graduation Day
The Beatles– In My Life
The Beatles– With a Little Help from My Friends
The Bee Gees–Don't Forget to Remember
The Who–My Generation
Bill Medley– (I Had) The Time of my Life
Bob Dylan– The Times They are A-Changin'
Billy Joel– Moving Out
Billy Joel– This is the Time
Bo Bice– Remember Me
Boston–Don't Look Back
Boys II Men– It's Hard to Say Goodbye to Yesterday
Charlotte Diamond–Each of Us Is a Flower
Carrie Underwood– Whenever You Remember
Celine Dion–Because You Loved Me
Chris Isaak– Graduation Day
Christina Aguilera– These are Special Times
Cyndi Lauper–True Colors
Corey Smith–I'm Not Gonna Cry
David Cook–Time Of My Life
Crosby, Stills, Nash & Young–Teach your Children
Crosby Stills and Nash– Wasted on the Way
Diana Ross– I'm Coming Out
Dido– Here With Me
Elton John–Circle of Life
Eve 6– Here's to the Night
Everyly Brothers–Dream
Faith Hill– There You'll Be
Frank Sinatra–High Hopes
Green Day–Time of Your Life
Gwen Stefani–Running
Hoobastank– Remember Me
Indigo Girls– Closer to Fine
Irene Cara–Fame
Jack Hartmann–Together
Jim Croce–Time in a Bottle
John Denver–Leaving on a Jet Plane (Also by Peter, Paul and Mary)
John Mayer–Time Is On My Side
Josh Groban– You Raise Me Up
Judy Garland–Somewhere Over The Rainbow (Also Somewhere Over Rainbow/What a Wonderful World by Iz (Israel Kamakawwiw'ole
Kanye West– Graduation Day
Kelly Clarkson–A Moment Like This
Kelly Clarkson– Breakaway
Kool and the Gang–Celebration
Lady Gaga–Just Dance
Lee Ann Womak– I Hope You Dance
Lenny Kravitz– Again
Madonna– This Used to be My Playground
Mariah Carey–Make It Happen
Marvin Gaye–Ain't No Mountain High Enough
Matchbox 20– Closing Time
Michael W. Smith–Friends
Michael Tolcher– Kings in Castles
Miley Cyrus–The Climb
Natasha Bedingfield–Unwritten
Nickelback–If Today Was Your Last Day
Night Ranger– Goodbye
Paula Cole– I Don't Want to Wait
Phil Collins–On My Way
Phil Collins—You'll be in my Heart
Pink Floyd– Another Brick in the Wall
Porter Wagoner- Graduation Day
Queen– We are the Champions
R. Kelly– I Believe I Can Fly
Rascal Flatts- My Wish
REM– It's the End of the World as We Know It (and I Feel Fine)
Rembrandts–I'll Be There For You
Rod Stewart–Forever Young
Sarah McLachlan– I Will Remember You
Scorpions–Winds of Change
Semisonic–Closing Time
Simon and Garfunkel– Bridge Over Troubled Water
Simon and Garfunkel– Hazy Shade of Winter
Simple Minds– Don't You Forget About Me
Smashing Pumpkins– Today
Smokey Robinson–Really Gonna Miss You
Steve Miller Band– Fly Like an Eagle
Stevie Wonder–A Place In The Sun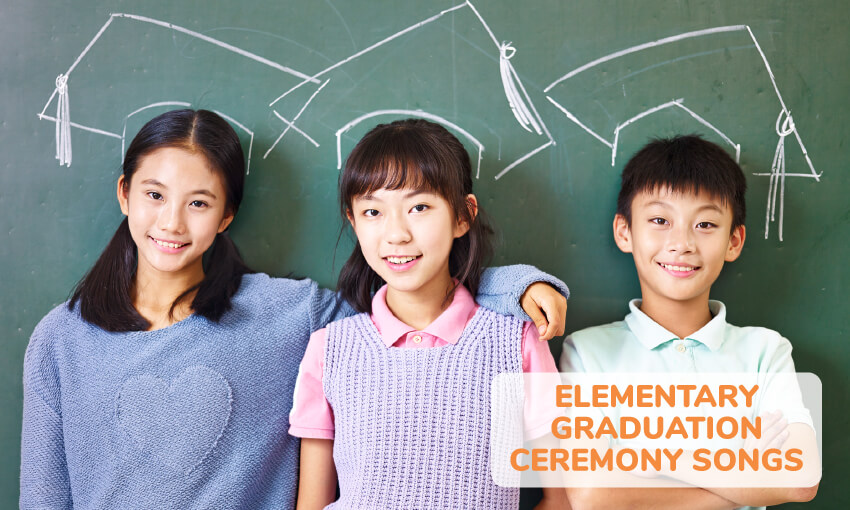 There you have it, 82 good graduation songs for kids in preschool through high school. Enjoy this exciting day. As parents and teachers, it's always a memorable day to see
children transition from one stage to the next
. Perhaps they are moving on to elementary from preschool or college from High School, what an exciting and emotional day. Playing the right music at the graduation ceremony is sure to bring back all the memories up until this point. Now that you have found the song for the big day, perhaps you could use some
graduation snack ideas
.


SaveSave