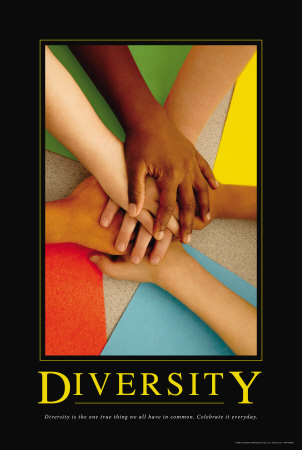 AFFIRMING DIVERSITY: Does your program and school …
•  ESTABLISH a commitment to equity and inclusion.
•  KNOW your community.
•  HIRE staff that reflect the community and that understand diversity issues.
•  PROVIDE staff orientation and training on issues related to equity and diversity.
•  CREATE a program environment that is inclusive, multicultural, and reflects the communities you serve.
•  INCORPORATE attention to diversity and equity into program design.
•  LOOK for program materials that are up-to-date and non-stereotypical, and that reflect the backgrounds and experiences of participants and their families.
•  BUILD cultural relevance into your plans for academic support and enrichment.
•  DEVELOP inclusive outreach and application materials.
•  ESTABLISH a Board or Advisory Committee whose membership reflects the communities served.
Source: schoolagenote of the day: April 18, 2007 schoolagenotes.com.
____________________________________________
Menu for Diversity and Multi-Cultural Category
'Traveling Around the World' is a great theme for multicultural experiences as well as popular for classroom, day camp and childcare programs! Category resources available at this time are:
•CHINA   •FRANCE  •MEXICO  •USA-PATRIOTIC  •USA-COLONIAL
____________________
SaveSave