School Age Programs should inlude a Science Center or Table!
Some  Ideas to bring into your Science area are:
 BOOKS & RESOURCES ON…
Anatomy
Astronomy
Animals/Pets
Birds
Biographies/Stories of well known scientists
Botany
Caves
Endangered Species
Experiments
Fish
Life Cycle Books (Frog & Butterfly)
Life Cycle Posters
Measurements
Rainforest
Weather/Clouds
SUPPLIES:
Animal Match Games
Ant Farm/Ants
Aquarium to use for fish– as well as for Float or Sink Experiments
Barometer
Binoculars
Bird Nests
Butterfly Net
Bones
Bugs
Color Paddle Set
Computer/Internet Connection
…..There are tons of Science Activity Sites and Games
CONTAINERS FOR:
…..Bugs, Collections
……Bug Houses
BONES:
…..Beef, Pork, Chicken
Color slides
Compass
Flowers/Flower Seeds/Vegetable seeds-seedlings
Frozen Fish
Goggles
Globe
*INGREDIENTS TO MAKE: Gak/Goop/Glarch/ Flubber/Silly Putty/Play Dough
Kaleidoscopes
Lab and Science Kits/Crystal Growing Kit
Leaves
Levers/Pulleys
Plants
Program Pet
Magnet Kits
Magnifiers
Maps
MEASUREMENTS:
…..Bath Scale
…..Measuring Cups/Spoons
…..Meter/Yard Sticks
…..Mixing Bowls
…..Rulers
…..Scales and Weights
Microscopes
Mirrors
Owl Pellets
Pickled Eggs
Prism Light Center
Rocks, Minerals, Fossils
Terrarium
Thermometer
THINGS TO TAKE APART:
…..Clocks, Small Appliances
…..Cameras, Computers,
…..Old Toys
…..Out-of-date Nintendo equipment
Tornado Bottles
Tuning Fork
Tweezers, Forceps
Shells
Skeleton
Slinky
Sniff Jars
Soil, Twigs, Sticks
Sand
Specimen Bags
Squishy-Feely Things
Sun Sensitive Paper
Supplies to make Tornado Bottles
Wasp/Bee Nests
Wheels and Pulleys
X-Rays of Humans and Animals
INCLUDE:
Science-Related Coloring Pages
Word Search
Puzzles
Games
Recipes to make snacks that look like bugs,etc.
---

TIP: *If you have the following items in your storage area, you'll be able to make just about any playdough or goop recipe there is!
Alum (Powdered)
Baking Soda
Borax
Corn Starch
Cream of Tartar
Flour
Food Coloring
Glitter
Ivory Snow Clothes Detertent
Jell-O/Gelatin
Sugar Free Kool Aid
Liquid Starch
Salt
Vegatable Oil
White Glue
For ingredients to make SPECIAL PLAYDOUGH such as 'Peanut Butter, Cotton, Coffee, Lint, etc.– see the PlayDough category
---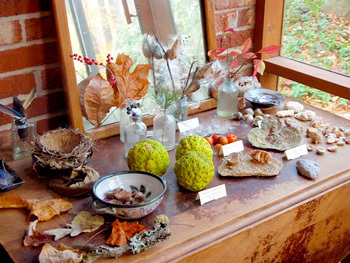 THE EARTH'S WONDERS
Display natural earth wonders such as :
Sea shells, rocks, crystals, geodes, pine cones, seeds, twigs, etc.
Encourage children to add to the collection. Provide magnifying glasses to study the items at this center…Photograph courtesy of Restoration Place.
---
MENU FOR CENTER IDEAS