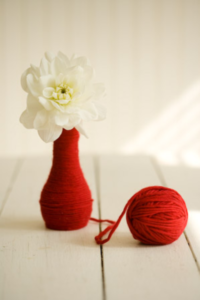 This category contains a wonderful variety of crafts that would also make great gifts! Some can be made independently…Some will require a little help. You'll find these projects are adaptable to most seasons.
CRAFT GIFTS
YARN VASE
Materials:
A glass bottle
Yarn
Craft glue
A toothpick
1. Cover about 1″ of the bottom of the bottle with glue.
2. Wind the yarn around the bottle, tight but not too tight. You can use different colors of yarn to make stripes on your vase.
3. When the glued area is completely covered, push the rows of yarn closer together. Tuck in the beginning of the yarn with a toothpick, add a little more glue there and press down for a minute.
4. Keep repeating steps 1, 2, and 3 until the whole bottle is covered with yarn. Glue will dry clear.
---
PAINTED GLASS VASE
Recycle a jar into a pretty gift vase or pencil holder…
Materials:
Clean, empty jar
Acrylic or liquid tempera paints
Paintbrushes or cotton swabs
White glue
Clear glaze (available at craft stores)
To make the paints stick to the glass, first mix the colors with some glue. Keep the paint thick so it won't run.
Use brushes or cotton swabs to paint a design on the jar.
To erase a mistake, use a paper towel to wipe off the paint before it hardens.
LET THE PAINT DRY, then seal the finished design with a coat of glaze.
---
CERAMIC HOT PAD
Paint children's' hands and place them on a 6×6 ceramic wall tile (You can usually get them donated through a home repair store). Write the child's name at the bottom. After 24 hours, put a sealer on the tile.
---
ALTOID TINS make wonderful containers! (Gifts too!)
Need:
Empty, clean Altoid mint tins (other brands will do), acrylic paint, Paint brushes or sponges.
Decorative options: Ribbon, buttons, craft foam shapes, pom-poms, photos, magazine cut-outs, glitter glue, feathers…the possibilities are endless!
First paint the tins using acrylic paint. After the paint is dry, it's time to decorate. You can use a glue-gun, glue dots, craft glue or even sticky backed craft foam! It's that easy!
Fill your new tins with barrettes, paper clips, earrings, postage stamps, lost buttons or make a mini-sewing kit for traveling.
It wouldn't cost much to turn it into a SEWING KIT as a gift…
From: Leslie S. /Minnesota
It works nicely as a SMALL FIRST AID KIT for the car!
Paint the tin white–when dry add the large red cross in the center Fill it with some "FIRST AID SUPPLIES".
I used sticky-backed red craft foam to make the cross, so no glue was necessary. Then, I filled the tin with Tylenol type tablets, disinfectant wipe and a couple bandages.
---
JAR CANDLES
Save the stubs of candles. When you have several saved, melt them together in a double boiler.
Color the wax by adding bits of crayon to the mixture.
Pour the wax into glass jelly or mason jars– or metal cans.
Use cotton yarn for wicks, or you can purchase a roll of wick at a craft store.
Decorate the outside of the candle holder with acrylic paints.
---
MAKE SOME BEADS (Two Recipes)
When making the dough, tint the water with food coloring. (Use the 'Baked Art Dough' recipe below)
Have children roll the dough into bead shapes.
Insert a large nail through each shape before baking.
When the shapes have cooled—remove the nails and have children string the beads to make necklaces.
---
BAKED ART DOUGH
Good for making gifts! In a bowl, mix together 2 cups flour and ½ cup salt. Stir in ¾ cup water. Knead the mixture for 8 to 10 minutes, until it is smooth and pliable. If the dough is too dry, add a few drops water. If it is too sticky, add a small amount of flour. Have children mold the dough into shapes and press in decorations when desired.
Place the decorated shapes on a baking sheet and bake them at 300 degrees F for about 4 hours, or until hard.
If desired, when shapes are cool and dry, spray the painted or unpainted shapes with a clear fixative—in an area away from youth.
---
JEWELRY CLAY
3/4 cup flour
1/2 cup salt
1/2 cup cornstarch
Warm water
Mix dry ingredients together.
Gradually add warm water until the mixture can be kneaded into shapes. An adult shouild supervise so the mix doesn't become too watery.
Form beads by breaking the dough into little balls and rolling it to the desired shape.
Pierce the balls with toothpicks. Allow the balls to dry.
When dry, paint and string the beads.
---
MAKE JEWELRY OUT OF PUZZLE PIECES
Take a piece of a jigsaw puzzle, or several pieces glued together, paint it and decorate it with beads, glitter, sequins, etc., Glue a jewelry pin on the back.
---
FLOWER POT PENCILS
Materials:
Pencil
Hair scrunchies
Craft foam leaves
Scissors
Hole punch
Clay pot
Black beans
Remember those fluffy scrunchies from the 80's and 90's (the material on an elastic band) that so many of us used to make our pony-tails? Collect all you can for this fun spring/summer craft or gift.
For each flower, wrap 1 or 2 COLORFUL HAIR SCRUNCHIES around the top of a pencil.
Cut out a pair of green craft foam leaves (You can pre-make a template for children to trace)
Lightly etch leaf vein lines in the foam with the tip of a toothpick. Using a hole punch, make a hole in the base of each leaf.
Put the finished flowers in a clay pot filled with dried black beans (Tape over the pot hole if beans fall through)
---
PENNY PAPER WEIGHT
Materials:
Cleaned and shiny pennies
Elmers Glue
Small tiles ( I used about 3"x 3" – you can also use the top side of jar lids)
Felt pieces for bottom
For a SAC program, I picked up discontinued tiles (see if you can get them donated–the store gave me about 100 for no charge!)
1. First clean and dry the pennies. (This step can be a 'science project'!)
2. Next glue pennies to the attractive side of the tile. Glue on the first layer and then in places— glue two or three on top of each other. Glue will dry transparent. Pennies do not have to cover all edges as the tile underneath is nice looking.
3. When pennies are dry— fit, cut, and glue felt to the bottom.
4. The tiles used were unfinished on the side, so we used permanent marker along the edge.
5. You can protect pennies with a coat of clear polish!
The same idea can be done using stones! (Image/idea by KidActivities)
RIVER STONE PAPER WEIGHT (See directions in Stones, Rocks and Pebbles Category)
---
TISSUE BOX GIFTS
Directions call for "un-opened facial tissue box".
1.  Take the box and glue pasta shapes all over it–except the opening at the top.
2. IF KIDS WANT, give them a couple days to cover the box completely with the pasta shapes–(they'll do a nicer job if they also have time to do other things too.) Use uncooked pasta shapes of macaroni, wagon wheels, bow ties, and cork-screws…
3.  When the glue has dried, spray paint the boxes gold (away from the kids)…
---
Make a TERRERIUM OR SEASIDE SCENE inside a small to medium glass vase.
Use pebbles, green moss, fall foliage, twigs, small pieces of wood or stone for the EARTH TERRARUIM.
Or use beach sand, shells, small pieces of driftwood, the small discarded shell of a crab, etc., for a  SEA SCENE.
TIP: Put small glass vases in your wish list! I imagine that your parents have quite a few vases in their cupboards that they could donate–I get a couple every year with gifts of flowers.
---
CRAFT STICK TREASURE BOX
Materials:
1 package of large or small craft sticks
White craft glue
Buttons or beads
Paint brush
Wax paper
Optional: Acrylic paint, Glitter glue, Craft jewels
Lay several craft sticks on the wax paper, next to each other and touching. Be sure to line them up evenly.
Use two more craft sticks and glue on top of the others, one at each end, to hold the rest together. They will look similar to a fence or log raft.
Use two more craft sticks –and glue ends of stick– to the ends of the sticks that are already in place, so that they create a square.
Keep repeating this alternating process to build up the sides as high as you would like.
Make the lid by repeating steps 1 & 2 above. Let everything dry completely.
You can leave your box plain or paint it. You can also add a shiny effect by painting on a layer of glitter glue over white paint. Glue a bead or stacked matching buttons to the center of the finished lid as a handle.
You can further embellish your jewelry box by decorating it with craft jewels.
Adapted from: artistshelpingchildren.org
---
SILOUETTE GIFT
Materials:
2 Pieces of White Construction Paper
1 Piece of Black Construction Paper
Pencil
Glue
Tape
Scissors
Flashlight or Lamp with the Shade Removed
 Tape a piece of white construction paper onto a wall.
Have the person sit sideways in front of the paper; have someone use the light to cast a shadow of the profile on the paper.
Trace the profile.
Trace the profile onto the black paper and cut it out.
Glue the profile onto the other white paper.
---
VOTIVE CANDLES
Materials:
Baby food jars or jam jars
Scraps of tissue paper
Diluted paste or glue
Votive candles
Clean the jars well and let dry. You can use small jars…but check the size of the votive candle to make sure it will fit.
Have the children  brush glue onto the jar and place different colors of tissue paper over the glue, overlapping so the entire jar is covered on the outside. When brushing the tissue with glue be sure to do so gently so it doesn't tear. If it tear, remove or leave wrinkled.
The glue will appear to be white but will dry clear and when a candle is lit inside will give off a pretty color and design.
Great for gift time!
  ♥ Mother's Day: Use Mom's favorite colors
♥ Christmas: Use red and green
♥ Valentine's Day: Use pink & red and so forth…
---
ROCK ART are great gifts for people. They can be used as paper weights, decorations for indoor gardens or masterpieces to be shown throughout the home.
1. Gather various shapes and sizes of rocks found at parks or along beaches or in your own background. All sizes and shapes are perfect for rock art.
2. Clean the rocks and air dry.
3. Gather various art supplies. (Markers, paints, crayons, glue, fabric…)
4. Decorate.
---
CRAYON COVERED ROCK PAPERWEIGHT…
Makes a nice gift!
Materials:
Zip–close plastic bag,
Wooden or rubber mallet
Smooth, flat rocks about the size of your fist
Aluminum foil or an old pie tin
Felt scraps
Scissors
White glue
Choose crayons in three or four light or bright colors. Dark crayons will make the color on the rock look muddy.
Peel the crayons, put them in the zip-to-close bag, and seal it.
Place the bag on a hard surface such as a floor or sidewalk. Using the mallet, pound the crayons into small pieces.
Place the rock in the pie tin or on a sheet of aluminum foil in the hot sun. Sprinkle it with the crayon pieces.
When the crayon pieces have melted, but before they reach the point that they run off the rock, take the rock out of the sun to cool.
The crayon will quickly harden and form a colorful and waxy coat over the rock.
Cut a piece of felt to glue to the bottom of the rock to keep it from scratching the table.
The sample photograph is courtesy of World Preschool Mom. The rock was made by a four year old boy; it was colored after being in the oven for about ten minutes. With this method as Deneal states, place the rock on a sheet of foil (with a hot pad or towel under the foil) before decorating with crayons. The hotter the rock, the more runny the wax will be. (Use caution and supervision with this method.)
TIPS:
IF WEATHER ISN'T HOT— Preheat the oven to 350 degrees. Place the rocks on a foil covered cookie sheet and put them in the oven for the children. Keep an eye on them because the crayon melts quickly. It will re-harden within seconds of taking it out of the oven.
To do outside—this project needs a hot, direct sun..
If you're unhappy with the color of a crayon-coated rock–Reheat the rock and allow the crayon to melt to the point where most of it drips off the rock and onto the foil under it. Cover the rock with a new selection of crayon bits and see if you get a swirl of color you like better. Remember to avoid dark colors.
……A goal is to get it looking like a tie-dyed rock! The distinct lines of color can be very beautiful. Because the rocks can be easily redone, remember not to place the completed ones that you like in a sunny window or direct, hot sunlight because they will re-melt.
---
NO ROCKS???
Try sprinkling crayon bits on the indented end of a metal lid from a frozen juice can. After crayon has melted and dried, attach a piece of sticky-back magnet to the back of the lid and put the colorful crayon magnet on the refrigerator.
---
CANCELLED ROCKS
(These make nice paperweights)
Materials
Cancelled stamps from your mail; small colorful pictures from seed catalogs and magazines may be used instead of stamps.
White glue (the kind that dries clear)
Clear shellac, varnish, or fingernail polish
Smooth surfaced rocks
Wash, rinse, and dry rocks.
Carefully peel off stamps from envelopes. It's O.K. if some tear.
On dry rock, spread a thin layer of glue
Arrange stamps (or small pictures) on rock, OVERLAPPING, until all rock sides showing are covered. Let dry.
Coat with thin layer of shellac or varnish, or fingernail polish.
NOTE: You can also coat the finished rock with a thin layer of white glue. It will dry clear, but it will not be waterproof!
---
POPSICLE STICK PENCIL HOLDER
If this is a gift, make it in the person's favorite colors.
Materials: Approximately 22 Popsicle sticks, container, paint (Optional)
Take the paper label off the container.
Line up a Popsicle stick, straight up and down, so that the bottom of the stick is just touching the bottom of the container and the top of the stick goes just over the top of the container.
Glue in place. Glue another Popsicle stick next to the first one– then repeat until you have glued on Popsicle sticks all the way around.
Leave natural or paint the Popsicle sticks; use any color except green if you'll be painting on green leaves.
Let paint dry.
Paint flowers or decorated as desired.
---
PLACE MATS AND COASTERS
Artwork can be transformed into useful place mats or coasters for children and family.
Use existing artwork or have children design something special. For place mats, have children draw, paint or color a picture on a large piece of paper, then laminate it or cover it with clear contact paper.
For coasters, children could trace templates on colored paper and laminate. Don't forget to sign and date the back!
---
NAPKIN RINGS
For each napkin ring you will need a chenille stem and several colorful beads.
Have children twist the ends of each chenille stem so that a 2-inch circle is made to hold the napkin.
Thread colorful beads on each end of the chenille.
Cut off the extra chenille stem as needed; have children experiment with bending and twisting the ends of the chenille stemsas the beads are added.
INTERESTED IN MAKING TP TUBES AND YARN NAPKIN RINGS? Visit the Christmas Craft Category–near bottom of Page 4 for directions. They're not only for the Holidays-but can be made in any color for any season!
---
BOOKMARKS make a great for a gift to someone you love. (Visit Bookmark Category for many ideas)
BOOKMARKS #1
Cut the front of appropriate greeting cards into 2 inch wide strips. Punch a hole at the top of each strip and attach a yarn tassel. Children can decorate the backs of the strips with markers and crayons if desired…
---
BOOKMARKS #2
Make fun bookmarks with construction paper, markers, paints, and stickers. You can also use glitter, sequins, lace, doilies, buttons, and any other odds and ends you have left over form other projects.
Cut strips from construction paper, painting the construction paper will make it sturdier, or you can visit the local library or office supply to have them laminated for longer lasting use.
To complete the bookmark, attach a tassel make from strands of yarn.
---
STATIONARY 
Decorate several sheets of paper and envelopes to give as stationery. Use glue and glitter, crayons, markers or paint for borders; or cut out pieces of sponge, dip them into paint and make stamps on the paper.
---
FLOWER AND LEAF PRESS Note Cards or Pictures
Materials needed:
Old phone book
Collection of colorful leaves
Grasses, flowers, herbs
Craft glue
Plain note cards/postcards/watercolor paper.
Take a nature walk on a clear, dry day. Collect any attractive flowers, leaves, grasses, and herbs.
Separate each stalk or blossom. Place each one separately between the pages of the phone book, spacing them well apart from each other.
Place the phone book in a cool, dry place for a week to ten days. Your leaves will then be totally dry and ready for use.
Carefully apply craft glue, just a dab, to the back of the dried leaf or flower.
Center it on a note card for a single design or place several as a collage on a sheet of watercolor paper, which can later be framed.
Your leaf press can be used over and over again. Flowers can be stored in them for several months. A
They're also nice for journals and bookmarks…
---
DID YOU KNOW?
In Victorian times people planted decorative gardens and often preserved their herbs and flowers in a leaf press. Certain flowers were thought to have specific qualities:
Rosemary for remembrance
Roses for undying love
Lavender for devotion
Oak leaves for strength
A note card that used the fragrant language of flowers conveyed more than words.
---
LAYERED PASTA JARS
Collect an assortment of jars. Have children fill the jars in layers with a variety of shapes and colors of pasta. The jars make pretty decorations for kitchens, etc. Nice to give as a gift…
---
THREE GIFT IDEAS FOR DAD, GRAMPA, UNCLE, ETC…

PLASTER PAPER WEIGHT
Materials:
Plaster of Paris,
Assorted nuts, bolts, etc.
Felt
Glue
Silver spray paint
Mix up the Plaster of Paris according to package directions.
Give each child about 1 cup of the mixture and have them form it into a lump with a flat bottom.
Quickly before it hardens have them stick the nuts, bolts, etc. all over the lump.
Leave it to harden overnight and then spray with silver paint.
Last, cut out a piece of felt and glue it on the bottom.
---
CHIP OFF THE OLD BLOCK (A gift for Dad)
Materials:
Block of wood
Child's Photo
Modge Podge
Glue child's photo on the block of wood using the podge type effect.
On the back of the wood have a card printed with 'A Chip Off The Old Block'.
---
COIN HOLDER
Have children mold pieces of dough into small bowl shapes. Decorate the bowls by pressing colored pasta pieces and dried beans into the shape. Bake the bowls with decorations in place.
You can use the  recipe above…
---
WIND CHIMES MAKE WONDERFUL GIFTS. For Windsock and Wind Chime ideas..
---
PENCIL HOLDER FROM A YOUNG CHILD
Materials:
Tin can
Paper
Paint
Glue
Note.
Have each child paint or finger-paint a design on paper. When dry, cut the paper to fit around the tin can. (Make sure there are no sharp edges left on the can.) After reading the following note aloud to the children, have each sign his/her copy and tuck it into their can.
NOTE to tuck in can:
This little can, made of tin,
Was washed and saved to use again.
I added paint, I added glue,
And made a present just for you.
It's for your pencils or your pens.
You can show it to your friends.
It's not empty, for you can see
It's filled with love to you from me.
---
MAKE A PERSONALIZED T-SHIRT for Mom or Dad
Mom's could be a sleep shirt!
Idea: Paint the bottom of the children's feet using fabric paint and have them step on the shirt to make footprints. Once the footprints are dry, use black fabric paint and write, "My kids walk all over me".
OR…
When painting a shirt for someone…Keep the recipient's hobbies and interests in mind. For example, if he/she is an avid fisherman, why not make him/her a related shirt? You can make or buy fish-shaped stamps or sponges, dip them in fabric paint, and press a print on the shirt.
Since this could be costly–you could ask children that want to make a shirt– to bring one in. If "new" it needs to first be washed.
ABOUT PAINTING ON FABRICS…
Painting on fabric is done with a special acrylic paint that sets in the heat (Fabric paint) –by ironing or in an oven at 302F.
You can also make your own fabric paint by mixing acrylic paint with a mixer.
Apply the paint with a brush or stencil brush. The fabric SHOULD BE PRE-WASHED TO REMOVE SIZING/Starch so that the paint doesn't 'slip'.
Avoid  slightly fluffy fabrics when using a paintbrush, it makes the task harder.
When the shirt is painted and dry–be sure to iron it to set the paint before it is worn. If the paint is not "set" it may come off when washed. TO PAINT A T-SHIRT… After washing and drying the garment, you should iron it and lay it out flat. Slip a thin piece of card board inside to stop the paint from staining the back of the t-shirt. It could be impossible to get rid of paint stains on clothes; work carefully and cover up the surfaces not meant to be painted to protect them as you're working._
---
REFRIGERATOR MAGNETS… Take small wooden shapes; paint them or decorate them with other supplies. Glue a small magnet strip on the back.
---
PAINT A POT…
Paint pictures or designs onto a plain clay flower pot. Give just the pot or fill it with some goodies. These are also nice painted to a Theme…such as Halloween…and then filled with candy corn or ____ for a center piece.
---
Make Scarves: This is a craft that requires only the fleece fabric & a good pair of scissors! The pictures are not mine but shows you exactly what I'm talking about.Our students made warm scarves by buying lengths of micro-fleece and simply cutting them into strips. The end was then cut into fringe. The fleece does NOT unravel so does not need any sewing.
It is available in unlimited colors and prints. All you need is approximately 8 to 10 inches wide by 3-5 feet in length (shorter or longer depending upon your preference). You can knot fringe pieces together, two by two, so that all of the fringes are knotted. If desired, slide beads (as in photo) onto the fringe and tie another knot, for added embellishment. (No name submitted)
---
DECOUPAGE COOKIE PLATES…The sample image made by KidActivities.net uses winter 'Holiday' wrapping paper–however, the drawing or gift wrap used can be geared to any time of the year! It would be wonderful gift for Mother's Day, Easter, Valentines Day, or Thanksgiving!
You need:
Clear glass plates, plain white paper, pencil, scissors, crayons or markers, Modge Podge
1. Trace around a plate. Cut out the circle.
2. Make a colorful drawing on the paper circle.
3. Brush Mod Podge onto the back of the plate.
4. Press the picture onto the back of the plate.
5. Press out any wrinkles.
6. Let the plate dry. Apply another coat of Modge Podge if desired.
If you're an adult and making on this for a gift-fill this plate with cookies you have made! Cover with colored cellophane and ribbon.
NOTE: Krylon spray was also used on the back of the plate for added protection. If you do this, allow time for any chemical odor to diffuse.
NAPKIN DECORATED TILES…
Good for ANY season or ANY holiday!
Materials:
Approx. 6″x6″ tiles
Holiday paper napkins
Modge Podge (A water-based glue, finish and sealer)
Brush
Felt (Peel-off sticky back felt was used on sample)
Krylon type fixative finish (optional)
1. Brush modge podge generously on the tile. (The cocktail napkins and the tiles were the exact size as each other; no trimming was necessary)
2. Gently lay/apply the napkin over the tile. When napkin adheres to tile–carefully apply one or two more coats over the napkin covered tile.
To ensure longevity, Krylon spray was used over each tile.
3. Cut felt piece to fit. If 'peel off' is used–just peel and place on bottom of tile. If regular felt used–glue to bottom.
These can now be used as a decoration or coaster. (I tested the 'completed tile' by placing a hot cup of tea on it. There was no change in the finish) Image by KidActivities.net
---
Be sure to check out  Gift Wrapping Ideas —it could be another fun activity and extend the gift making project!
Other pages in this Category of Crafts that are great for Gifts are: