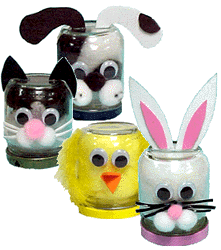 ANIMAL JARS Try this craft from Making Friends  It can be adaptd to just about any animal or holday theme!
1. Remove the label from a clean baby food jar. Remove label. Fill the jar with pompoms to match your animal's face. Put the lid on and turn it upside down.
2. Glue on wiggle eyes.
3. Cut ears (or beak) out of foam and glue in place.
4. Add pompoms if desired.
5. For whiskers, cut pieces of craft lace and glue one end under pompom nose.
6. Cut a strip of craft foam 1/4″ wide and glue around edge of lid. Original idea from Lisa  Anniston, Alabama
---
VOTIVE CANDLES (From Gift Crafts on this site)
Materials:
Baby food jars or jam jars
Scraps of tissue paper
Diluted paste or glue
Votive candles
Clean the jars well and let dry. You can use small jars…but check the size of the votive candle to make sure it will fit.
Have the children  brush glue onto the jar and place different colors of tissue paper over the glue, overlapping so the entire jar is covered on the outside. When brushing the tissue with glue be sure to do so gently so it doesn't tear. If it tear, remove or leave wrinkled.
The glue will appear to be white but will dry clear and when a candle is lit inside will give off a pretty color and design.
Great for gift time!
♥ Mother's Day: Use Mom's favorite colors
♥ Christmas: Use red and green
♥ Valentine's Day: Use pink & red and so forth…
This Christmas version of votive candles can be found on Christmas Crafts Page 1. Please scroll down towards the bottom of that page for directions…
---
STAR JAR…Love these!
Cover the lid of the jar with material and ribbon along the lid edge. Start by placing 2 Tablespoons of Hair Gel into the jar. ('Dippity Do' is the brand used in this sample. It was purchased at a hair supply store)
Carefully place beads, sequins, etc. through out the gel. Keep repeating until the jar is full. Cover tightly. (This sample was made about 18 years ago!) The thickness of the gel keeps anything that is placed in it from moving around!
This idea can also be adapted to seasonal themes. Example–For Halloween one would place small items such as a plastic spider, pumpkin, orange and black sequins and beads! 
The jar on the right is simply a clear jar/bottle with flat-sided stones glued on. Stones/gems with one flat side can be purchased at craft stores such as Michaels. This craft was made by a four year old child. The star jar was made by a school-age child. (Image by KidActivities.net)
---
SAND JAR
Need: Baby food jars or other jars, colored sand or sand and tempera paint
If not using purchased colored sand, compine the sand with the dry tmepera paint. Make a variety of colors. Salt also works for white.
Layer the different colors of sand into the jar. (Using small funnels to put the sand into the jars keep areas neat.) You can also use a straw or kabob stick to 'poke' through desired layers of sand to make designs.
---
SEWING KIT in jar
Cover the jar lid with material, felt or paper; decorate the lid with ribbon and/or flowers. In the jar place safety pins, thread, needles, straight pins and other sewing notions. This makes a nice gift!
---
CANDLES
Materials: Paraffin; Old crayons; Cold water; Hot water
This one needs supervision, but it's fun.
1. Take paraffin and melt it by boiling some water in a big pot; put the paraffin in an old coffee can inside the pot of water.
2. Fill  small water balloons with water. Melt old crayons in the paraffin to add color.
3. Holding the tied end, dip the water b alloon into the melted paraffin. Keep the paraffin about 1/2-inch from the top of the balloon. It works good if you dip it into hot water and then dip it into the bucket of cold water to cool it.
4. Keep dipping until there is a thick layer of paraffin around the balloon.
5. Let it dry overnight and harden. Then pop the balloon, and fill the shell with more melted paraffin and a wick.
The candles are really cool shapes! From Sarah/Oakbrook
---
SMELLING CONTAINERS
Materials:
Salt shakers or empty film containers with holes punched in tops.
A variety of scents such as: lemon garlic, vanilla, peppermint, cinnamon, coffee, etc.
Put a different scent in individual containers. Have children smell the containers and guess what each contains. You can also use a variety of essential oils on cotton balls and place in the containers.
---
SEE 'REINDEER FOOD JAR' IN THE CHRISTMAS CRAFT CATEGORY 
---
HOMEMADE RUBBERBAND BALL
All you need to make these easy rubber balls is aluminum foil and a large amount of rubberbands. Rubberbands that are colorful and variety in size is good…
Give each child a sheet of aluminum foil; have them crumple it into a ball.
Take 1 rubber band at a time and twist it around the foil many times to cover the aluminum foil; the more rubber bands the bigger the ball.
Continue until the ball is the desired size and no more rubber bands will fit on the ball.
When the ball is complete, the kids will have a high bouncing ball!
---
FAUX LEATHER-LOOK JAR VASE
Cover a jar with many pieces of radomly cut masking tape. When the jar is covered, wipe shoe polish paste all over the tape. Wipe on and wipe off until you have an effect that you like.
If budget allows and this is a gift from the children to ____, place a few sprigs of eucalyptus leaves in the completed vase! These last forever. This sample was made about 18 years ago!
---
PAINTED GLASS VASE
Recycle a jar into a pretty gift vase or pencil holder…
Materials:
Clean, empty jar
Acrylic or liquid tempera paints
Paintbrushes or cotton swabs
White glue
Clear glaze (available at craft stores)
To make the paints stick to the glass, first mix the colors with some glue. Keep the paint thick so it won't run.
Use brushes or cotton swabs to paint a design on the jar.
To erase a mistake, use a paper towel to wipe off the paint before it hardens.
LET THE PAINT DRY, then seal the finished design with a coat of glaze.
---
LAYERED PASTA JARS
Collect an assortment of jars. Have children fill the jars in layers with a variety of shapes and colors of pasta. The jars make pretty decorations for kitchens, etc. Nice to give as a gift…
---
JAR CANDLES
Save the stubs of candles. When you have several saved, melt them together in a double boiler.
Color the wax by adding bits of crayon to the mixture.
Pour the wax into glass jelly or mason jars– or metal cans.
Use cotton yarn for wicks, or you can purchase a roll of wick at a craft store.
Decorate the outside of the candle holder with acrylic paints.
---
NON-SEW SACHETS (From Gifts that Smell Good on this site)
Materials:
Fabric scraps, Fabric glue ,Potpourri
For each sachet, place 2 matching 5-inch fabric squares back-to-back and glue the edges together on 3 sides. Spread the glue close to the edges to prevent fraying.
Once the glue is dry, fill the sachet with about 1/2 cup of potpourri.
Glue together the open edges and again let the glue dry.
Arrange the finished sachets in multicolored stacks and tie them together with a festive ribbon or yarn.
---
ROCK NECKLACE
Materials: Small rock, wire (we used 22-gauge), small pliers, plastic lacing or other cord-type material.
Wrap the wire securely around the rock in a decorative fashion, being sure to include a loop at the top for the cord. Cut off the end of wire and tuck/wrap excess. String it through the cording and knot. Photo/Idea of Devanie Angel
---
ANIMAL CRACKER MAGNETS
Use plain regular animal crackers. Have children color them with regular markers or paint. You can use clear nail polish and brush over what your kids have colored after it is dry. When dry… use a small magnet and attach it to the back .… instant magnets to put on your fridge.
---
ANIMAL CRACKER PIN
To make this craft project you will need animal crackers, a flat backed pin, clear nail polish or varnish, and some craft glue. To begin coat your animal cracker with the polish or varnish in a well ventilated area and let it dry. Next glue it to a pin.
---
PUZZLE PIECE PINS! Take a piece of a jigsaw puzzle, or several pieces glued together, paint it and decorate it with beads, glitter, sequins, etc., Glue a jewelry pin on the back.
---
EASY PAPER PLATE DREAM CATCHER ( Idea and photo courtesy of (lil-teacher )
Cut slits along the edge of the paper plate. Colors the plate and then pull yarn or ribbon through the slits.
Glue on the feathers. All ready to chase away any bad dreams!
---
TWIRLERS
Hang an array of colorful twirlers from a window frame, tree, ceiling or front porch.
Craft materials:
Plastic coffee can lids (Lids come in a variety of colors)
Marker
Scissors
String To make one, use a nail to poke a hole in the center of a plastic coffee can lid.
With a marker, draw a spiral that starts 3/8 inch from the hole (it keeps going around itself in circular pattern) and gradually extends to the rim—then cut along the line with scissors.
Knot an end of a piece of string, thread the other end up through the hole in the center, and the twirler is ready to hang up and spin.
To spin, grasp each one at the bottom, twirl it around and around until the string is wound tight, let go and enjoy the show.
---
MAGIC WANDS (Also a great party-favor craft!)
Materials Needed:
Large (16 inch) Pixie Stix filled with candy powder (one for each child)
Shiny gold paper or paper of your choice
Star shaped cookie cutter (or shapes of choice)
Permanent black marker
Shiny gold curling ribbon
Hot glue gun
Spread paper –A shiny finish will give the best look when completed.
Tape the two layers together to keep them from slipping as you work on them.
Place the star shaped cookie cutter onto the paper and trace the shape with the permanent black marker. Repeat for each wand leaving at least one inch between each traced star shape.
Next, cut around each star about ½ inch from the black line. This will make a larger star shape with the traced star in the center. Since you have two layers of paper, you will end up with two perfectly matching star shapes, for the front and back of your wand.
Write the name of the child inside the black traced star.
Sandwich the label end of a pixie stick between the two gold stars with the gold shiny sides (or pattern if using other paper) facing out.
Hot glue the stars (shapes) to the pixie stick.
Measure 4 feet of gold curling ribbon and tie around the pixie stick below the star shape with a double knot. Curl ends with scissors if desired.
Tell younger children their wands are filled with magic pixie dust! If you want other shapes besides stars– browse the cookie cutters at your craft store for ideas. Boys especially may like cars, animals, etc.!
---
MAKE FANCY PENCILS
Materials:
Pencils, pipe cleaners, pom-poms, google eyes
1. Cut pipe cleaners/chenille in half.Wrap it around the end of a pencil.
2. Glue a pom-pom towards the end of the peip-cleaner; glue the eyes onto that.
3. Leave as is-or further decorate pencils with yarn and what ever else you can think off! Twist and Hot glue the items to the pencils.
---
PURCHASE SOME HEAT" FUSED BEADS!  Kids LOVE seeing their bead creations "fused" together into permanent works of art! Lay out a design using a pegboard, and then have an adult iron over the beads to fuse them together. Place wax paper or foil over the design before ironing (linen setting). Iron for 15-20 seconds, or until edges of beads are melted. After cooling, creations make great MAGNETS or ORNAMENTS.
Can be purchased at craft suppliers such as Michaels and Discount School Supply.
In Australia—HAMA® is a well known beads manufacturer; fusible beads can be purchased on the internet.
---
Warning: Do not use beads sold as Aqua Dots in the United States and as Bindeez in Australia; These are beads that can be fused together when SPRAYED WITH WATER. They were recalled in those countries as well as in Britain, Malaysia, Singapore and elsewhere in Novemeber 2007—after children began falling sick from swallowing the toy's bead-like parts.
Tests showed they were coated with the industrial chemical 1,4-butanediol. When ingested the chemical metabolizes into the "date-rape" drug gamma hydroxy butyrate, and may cause breathing problems, loss of consciousness, seizures, drowsiness, coma and death. In addition to the nine in the U.S., three children in Australia have taken sick.  Source: CBS News
---
Make some BALLOON STRESS BALLS to squeeze!They're also good for exercising hands after too much time at the computer keyboard or practicing penmanship. And if you and the children are not stressed (which is a good thing), give these to a parent as a gift!
Cover a table with newspapers — this project gets a bit messy. Have a canister of flour ready (how much you need depends on how many balls you make). You might want a helper with this project to make it easier.
Materials:
Flour, 16 oz. plastic bottle or funnel, small paper cup or measuring cup, medium or large round latex balloons, pencil or straw- or chopstick or dowel, permanent marker if desired.
1. Make a funnel out of plastic bottle by cutting 4 inches off the bottle–or use a purchased funnel.
2. Blow up the balloon and then let the air out. This is to stretch the balloon some.
3. Fit the balloon over the funnel or bottle spout.
4. Fill the balloon with flour by using the cup. Use a pencil, straw,spoon or dowel to push the flour down into the balloon.
5. Keep filling until your balloon is palm-sized. Twist the top of the balloon and tie it.
6. For stability, the sample balloon was made by pulling a second cut balloon over the first filled balloon–however, you do not need to add a second balloon–this is only for stability.
Above finished balloons by Lucky Bean.
7. Optional: draw on a face or decorate your ball.
Note: Other fillings like SAND or RICE can be used, but most people like the feeling of the flour-filled balloons best.
---
PET ROCKS
Find smooth, flat or round rocks. Be sure to clean off any dirt or sand and dry completely before starting. Paint with acrylic paints. Decorate faces by using google eyes, yarn for hair, markers, glitter, and any other tidbits you like. (Photo from shirtvalley.com)
PET ROCK Extension Ideas:
Investigate what type of rock your pet is. What are the three main types of rock? Discuss their characteristics and give examples of the different types.
Activities:
Write down its funniest sayings
Dress it up for a costume party
Send it on a holiday/vacation
Write it a bedtime story
Make it a form of transportation or a bed/house/etc.
Give it a name
Give it a birthday party and a present
Take it for a walk in the park and write what the two of you did
Have a picnic
Teach it a trick
Write out a word bank/haiku/pet journal
Prepare it to go to a class such as dance class/gymnastics/playgroup/sports day
Send it for a sleepover with a friend
Write out a menu sheet for its food
Photograph it/blog about it
Make a scrapbook page about it
Inspired by My Science Program
---
STRAW NECKLACES
Cut COLORFUL straws up into different lengths. Take a good length piece of yarn and tape one end so that it is easier to slip the straw on, and on theother end tie enough large knots so the straw pieces do not slip off. Now give the kids a bowl of colorful straws to make their own necklace.
Another substitute for straws is Cereal (fruit loops, cheerios, etc.) Or you can use Lifesavers or other candies with a hole in the center. (Photo from kiddio.org blog)
---
MAKE YOUR OWN BEAN BAGS FOR GAMES OUT OF PAPER NAPKINS!
The Bean Bag photograph is courtesy of School in your Home.
All you do is crumple up some napkins into a tight ball and then wrap another napkin around and secure in back with a rubber band. You can color the napkin with water-based markers before wrapping it or after. Experiment to see which works better. These inexpensive beanbags make for a fun activity for all ages–preschool and up! They would also make nice puppet head
---
YARN AND BALLOON BOWL directions are
in Art Activities-page 2. near page bottom.
This is page 1- Go to page 2 of General Crafts…