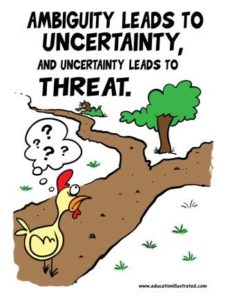 In creating new staff orientation, ask yourself what you want to achieve?
One major goal should be to prepare child care staff to be productive and lessen the possibility of  feeling overwhelmed.
Striving to make newly hired caregivers comfortable will solidify new staff relations with your programs.
You may say that a training program is not feasible–it is not in the budget. Research demonstrates that good orientation programs can improve employee retention by 25% in fields with high turnover. Definitely something to consider!
Where do you start? 
The first step is to clearly define what is to be learned and why. Keep to the essentials and practical. Your new caregiver should receive a comprehensive 'Orientation Packet' containing your program philosophy, Parents Handbook and personnel policies. Including an introduction to duties expectations, safety, and basic behavioral management will ensure smooth workplace transitioning.
When programs employ a Trainer or Facilitator, orientation should also be individualized in accordance with information collected before training begins. Evaluate what knowledge staff has brought with them to the position, and what they need to know in performing their duties.
Use examples, demonstrations, and illustrations on how provided material meets the trainee's needs. Keep it simple. Start with small steps, but include all information that is needed.
Present training material that addresses various learning styles. Keep it interesting and include: Visual, Tactile/Kinesthetic, and Auditory Learners.
To be effective, training needs to occur in regular measures; it should take place without interruptions or distractions.
Light a Fire! Your best opportunity to do this is during the initial hiring or during orientation. Build enthusiasm and instruct new personnel to read all training material, before the first day of work. Effective training should be more than handing out information. Trainees should be prepared for on-site information exchange with their co-workers.
Coach new staff and give them the words to be observant and ask:
What would you like me to do now?  Can you talk to me about _____ so I can better understand.  Encourage new staff to question in a manner that does not make other Team members defensive. Exchanges and clarification should be non-critical.
Encourage mutual accountability.
To facilitate this process, it is suggested that site personnel take responsibility and review specific expectations with new staff. Use an Orientation Check List to aid in providing a smooth transition. It would be the responsibility of experienced staff and new caregiver alike to work together in completing the check-list.
 Acclimate staff with a work site tour.
Discuss policies and introduce key personnel.
Point out where daily supplies are kept.
Inform new members of program routines.
Discuss practical methods for getting children's attention, accounting for all children and parental sign-out procedure.
Demonstrate the use of essential equipment such as message retrieval systems, etc.
Make sure caregivers understand what to do in an emergency.
Think of on-site training as continuing staff development for current staff. To be effective, training needs to be perceived as an ongoing, active process whose goal is to build a community in which active thinking and asking questions is comfortable. The goal is to achieve an environment which results in staff members who are open to growth in daily activities.Training should not only be viewed within the framework of supplemental readings and workshops–it needs to be a continuation where new and experienced staff are continue to learn and grow together!
---
Because there may be resisiance to change– Brain-storm with present workforce regarding specific ideas about what will work with YOUR programs. Caregivers may not take advantage of their role in training new staff unless they recognize it as fulfilling an important need. Established staff members should grasp the connection between mentoring and improving staff performance. Meet with all employees at a general staff meeting. Explain the benefits and importance of mentoring and coaching. Even with a Trainer employed, this is still a needed and important step. When all staff members are part of the orientation process:
Workers will become a unified team.
Programs will become stronger and run more efficiently.
There will more consistency in both the programming and staff philosophy.
There will fewer behavior challenges; children display self-control with people who are confident and competent.
KEEP IN MIND… Newly hired staff will be disappointed and confused if they find them selves at a site that does not follow the practices outlined in their orientation material. Your present workforce should know and follow the material that all newly hired employees receive. Before new orientation procedure begins, review with entire established staff, the material new employees are given. This could be done at a meeting held specifically for this purpose.
ALSO KEEP IN MIND…Teaching reinforces learning. The Best way to learn something is to teach it! Much learning is derived when staff members can observe other programs or caregiver styles.  Benefits are achieved when staff members are directed to note a particular method or procedure. Example: Specifically observing group meeting times or routine and play in the gym.
Further training can be supplemented by:
Sending staff to conferences where they will present to fellow staffers upon return.
Staff taking turns in coaching and mentoring new employees.
Coach later in the morning or at the end of the program when numbers of children are lower.
As budgeting allows, schedule paid on-site monthly meetings without administrative oversight, in addition to regularly held general staff meetings.
---
While in the short term site mentoring will consume upfront time; in the long term, more time will become available as staff builds stronger skills and work productively on the same page.
Happy training and mentoring! Barb Shelby
SaveSave