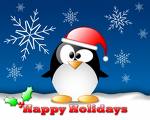 HOLIDAY BOOKS for young children…
Jingle Bells, Homework Smells by Diane deGroat
Santa's Snow Cat by Sue Stainton,
The Farolitos of Christmas by Rudolfo Anaya
The Legend of the Poinsettia – A Christmas Story by Tomie dePaola
The Night of Las Posadas – A Christmas Story by Tomie De Paola
The Twelve Dogs of Christmas by Emma Kragen
Welcome Comfort by Patricia Polacc
A Wish to Be a Christmas Tree by Colleen Monroe
The Oldest Elf by James Stevenson
TWO HOLIDAY CRAFT BOOKS…
Seasonal Gifts and Festive Celebration: Recipes and Ideas for Hand-Made Holiday Gifts
Author: Sarah Ainley
Lorenz Books / Anness Publishing Inc.
Website: www.lorenzbooks.com
Holly-Jolly Crafts under $10
Model: 1574861255
Author: Ann Childs (Editor)
---
HANUKKAH BOOKS are listed at page bottom of KidActivities Hanukka Theme page.
---
SNOW THEMES for Young Children
Clear Moon, Snow Soon by Tony Johnston
The Snowman by Raymond Briggs
Snow Day! by Barbara M. Joosse
Snow Is Falling by Franklyn M. Branley
Millions of Snowflakes by Mary McKenna Siddals
The Biggest Snowball Ever! by John Rogan
Sadie and the Snowman by Allen Morgan
The Snowy Day by Ezra Jack Keats
Geraldine's Big Snow by Holly Keller
Owl Moon by Jane Yolen
White Snow Bright Snow by Alvin Tresselt
Little Polar Bear and the Brave Little Hare by Hans de Beer
Winter Rabbit by Patrick Yee
The Jacket I Wear in the Snow by Shirley Neitzel
In the Snow: Who's Been Here? by Lindsay Barrett George
Snow Day by Betsy Maestro
Footprints in the Snow by Cynthia Benjamin
WINTER DAYS PLAY! Activities, Crafts, and Games for Indoors and Out (Paperback)
by Nancy F. Castaldo …good reviews
$13.95 New Starting at 2.95 Used at Amazon.com
---
FEBRUARY IS FRIENDSHIP MONTH. Celebrate the gift of friendship by reading with the kids. The following is a list of age appropriate books that you can share.
The Gift of Nothing"–(age 3-6) by Patrick McDonnell
Who Will be My Friends"– (age 4-6) by Syd Hoff
Things Not Seen–(age 12+) by Andrew Clements
The Hundred Dresses–(age 6-10) by Eleanor Estes
Friends–(age 5-8) by: Helme Heine
How to Lose All Your Friends–(age 4-6) by Nancy L. Carlson
Digby and Kate–(age 5-8) by Marsha Winborn
My Friend Flicka–(age 8-12) by Mary O'Hara
English Rose– (age 4-8) by Madonna
Little Blue and Little Yellow–(age 4-7) by Leo Lionni
Poppleton and Friends–(age 4-7) by Cynthia Rylant
Junie B. Jones Is a Graduation Girl–(age 6-8) by Barbara Park
Owen and Mzee: The True Story of a Remarkable Friendship–(age 4-8) by Craig & Isabella Hatkoff
I Like You–(age 8-12) by Sandol Stoddard Warburg
Will I Have a Friend--(age 4-6) by Miriam Cohen
Kaya and Lone Dog: A Friendship Story–(age 7-10) by: Janet Beeler Shaw
Friendship list compiled by Tonya at: www.tennsaca.com
---
VALENTINE DAY BOOKS FOR TODDLER and ELEMENTARY
A Sunday Stroll by Paul Borgese, Jane Arimoto (Illustrator)—Through the characters of LadyBug and Centipede, the author teaches your child about morals, friendship, patience, and helping others. Colorful illustrations compliment the story— A Valentine for Ms. Vanilla by Fred Ehrlich —On Valentine's Day the members of Ms. Vanilla's class participate in a party, write poems, open cards, and present a heart they all have signed to a special valentine.
Falling for Rapunzel by Leah Wilcox, Lydia Monks (Illustrator) –A humorous adaptation of the fairy tale Rapunzel. Witty rhymes accompany the colorful illustrations. As in the original story, the Prince calls to Rapunzel to throw down here golden locks in order to rescue her. But that is where the similarities end. This fractured fairy tale is sure to bring laughter to group reading time as Rapunzel's hearing faulters. The Prince asks for her locks, tresses, rope, twine, and ladder. Rapunzel responds with socks, dresses, a cantaloupe, a swine, and a bowl of pancake batter. Rapunzel's last mistake backfires – makes a hysterical ending for Valentine's Day.
Hearts, Cupids, and Red Roses: The Story of the Valentine Symbols by Edna Barth, Ursula Arndt (Illustrator)—Hearts, Cupids, and Red Roses describes the St. Valentine's Day holiday celebration from pagan festivals to present-day activities—Ever wonder where Valentine Symbols came from? Where do these customs come from, when did they begin, and why do we continue to observe them? This light-hearted holiday has ancient origins.— Edna Barth explores these love symbols. The book is full of fascinating details about Valentine's Day. Also included are some not so known stories and helpful supplemental material.
How Raggedy Ann Got Her Candy Heart: My First Raggedy Ann by Jan Palmer, Johnny Gruelle (Illustrator)—One day Raggedy Ann takes a kite ride way up in the sky — only to land in a bucket of paint! A friendly painter offers to fix her up like new, and it looks as though Marcella will have to part with her doll for a short time. But when Raggedy Ann comes back to Marcella, she's better than ever because of the painter's special gift. —Raggedy Ann has been beloved by children for many decades. In this new version of a classic, retold for young children, she and the other dolls in the nursery come to life with humor and spirit. –
I Like You by Sandol Stoddard, Jacqueline Chwast (Illustrator)–
"Here is the book that Romeo would have given Juliet; Charlie Brown would have given Snoopy; and you can give to some very special friend" proclaims the back cover of this small, whimsical book. Written in 1965 by Sandol Stoddard Warburg, it still makes the perfect present for your best friend. Not just any run-of-the-mill best friend, though. This book is for the kind of friend who yells for you when you get lost in Grand Central Station or pretends to save you when you pretend to be drowning.
Love You the Purplest by Barbara M. Joosse, Mary Whyte (Illustrator)—A perfect book for Mom to read to her children on Valentine's day. Every child wants to be loved the best. The Mom in this book figures out a way to answer her sons where they feel loved the best without sibling rivalry. The mother uses colors to describe the love for her sons – each color describing part of their personality. The illustrations are colorful and visually demonstrate how the mother feels towards her children.
Roses are Pink, Your Feet Really Stink by Diane deGroat (Illustrator)—When Gilbert writes two not-so-nice valentines to his classmates, his prank quickly turns into pandemonium. But there's always time for a change of heart on Valentine's Day. —
You and Me by Martine Kindermans (Illustrator)
"All we need is you and me,
to be as happy as can be.
And no matter where we go,
I will always love you so."
Cute picture book that follows a goose and her gosling to places far and wide. Through heat and cold, across prairies and mountains, all is well as long as they have one another.
Valentine's Day Is by Gail Gibbons (Illustrator)— Valentine's Day is candy hearts, flowers, and chocolate truffles. It is Valentine cards galore. Most of all, it is a time to share with family and friends, and a time to give thanks for our loved ones. Gail Gibbons presents the history of this special holiday and shares what the day has come to mean in our present-day society.
Valentine Hearts: Holiday Poetry by Lee Bennett Hopkins, JoAnn Adinolfi (Illustrator)–A small collection of endearing and humorous Valentine poems. Poetic themes include friendships, childhood crushes, and a child's affection for her pet. It's easy to imagine these works used as a poem-a-day assignment, inscribed messages for homemade valentines, or inspiring young poets to write their own silly or love poems.
MORE VALENTINE BOOKS…
Valentine Mice by Bethany Roberts
My Love For You by Susan L. Roth
Bunny My Honey by Anita Jeram
Love You Forever by Robert Munsch
If You Love A Bear by Piers Harper
Froggy's First Kiss by Jonathan London
I Love You, Little One by Nancy Tafuri
Mama, Do You Love Me? by Barbara M. Joosse These books are available through Scholastic book club or check your local library — most likely also on amazon.comBack to top of page
---
BOOKS FOR CHINESE NEW YEAR CELEBRATION as well as associated customs. Some of thebooks share information about the Chinese culture in general – great for elementary multicultural studies!
Celebrating Chinese New Year
by Diane Hoyt-Goldsmith, Lawrence Migdale (Photographer)
Chinese New Year for Kids
by Cindy Roberts
Dim Sum for Everyone
by Grace Lin
Dragon Dance – A Chinese New Year Lift-the-Flap Book
by Joan Holub, Benrei Huang
Fortune Cookie Fortunes
by Grace Lin
Grandfather Tang's Story
by Ann Tompert
Happy, Happy Chinese New Year
by Demi Hitz
Happy New Year
by Demi Hitz
Lanterns and Firecrackers – A Chinese New Year Story (Festival Time) by Jonny Zucker, Jan Barger Cohen
Lion Dancer
by Kate Waters, Martha Cooper (Illustrator)
Moonbeams, Dumplings, and Dragon Boats
by Nina Simonds, Leslie Swartz, and The Children's Museum, Boston
One Is a Drummer: A Book of Numbers
by Roseanne Thong
Round Is a Mooncake: A Book of Shapes
by Roseanne Thong
Ruby's Wish
by Shirin Yim Bridges
Sam and the Lucky Money
by Karen Chinn, Cornelius Van Wright (Illustrator), Ying-Hwa Hu (Illustrator)
The Dancing Dragon
by Marcia K. Vaughan, Stanley Wong Hoo Foon (Illustrator)
The Five Chinese Brothers
by Claire Huchet Bishop
The Runaway Rice Cake
by Ying Chang Compestine, Tungwai Chau (Illustrator)
This Next New Year
by Janet S. Wong, Yangsook Choi (Illustrator)
Tikki Tikki Tembo
by Arlene Mosel
Source: apples4theteacher.com
SaveSave