Disclosure: This post may contain affiliate links, meaning I get a commission if you decide to purchase through my links, at no cost to you. As an Amazon Associate, I earn from qualifying purchases. Read the full disclosure here.
Traxxas RC Car
Traxxas has quickly built a reputation for making some of the best remote control cars on the market. Their products are well-built, ultra-durable, extremely fast, and look incredible! You can have thousands of hours of fun with Traxxas cars and trucks, driving them over all kinds of terrain and racing against friends.
When it comes to choosing the best Traxxas RC car, great options are abundant. They have dozens of different models available, ranging from mini Monster Trucks to speedy Sand Buggies and rugged 4WDs.
Traxxas also makes cool replicas of popular vehicles, including the 1979 Chevrolet Blazer, Ford Bronco, and the Ford Fiesta ST Rally Race Car. These replicas are particularly fun for older car lovers who used to own the originals.
In this guide, I'm going to offer some tips for choosing a Traxxas RC car and share the 5 best Traxxas RC Cars on the market. Get your engine going, and let's get started!
Traxxas RC Car Buying Guide
Traxxas offers a vast range of high-quality RC cars in many different styles. They have exceptional build quality and durability, which gives the vehicles a much longer lifespan than cheaper products.
The performance of Traxxas RC cars is also incredible, thanks to their powerful batteries, 2.4GHz radio systems, waterproof/water-resistant electronics, robust shock absorbers, responsive steering, and fast acceleration rates. You can't go wrong when you purchase a Traxxas RC car. However, here are just a few tips to help you choose the right Traxxas RC car for your driving style:
1. Discover the different kinds of Traxxas RC cars available
Learning what cars are available will help you pick a vehicle with the right level of performance and looks. The most popular models in the Traxxas range are:
Traxxas Bandit (1/10 Scale, Electric)
A lightweight 2-wheel drive buggy. There are two models available: the Bandit, which has a brushed electric motor, and the Bandit VXL, which comes with a larger Brushless Motor and Traxxas Stability Management (TSM). Both vehicles come with the Traxxis iD Power Cell Battery. This RC car goes well on smooth surfaces and dirt. However, it might have issues with very bumpy or rocky surfaces.
Traxxas Rustler (1/10 Scale, Electric & Nitro)
The Rustler is a rugged RC with thicker tires and a wider body than the Bandit. Capable of speeds up to 35 miles per hour, it can be used on-road and off-road. There are several variations of the Traxxis Rustlers available:
Rustler
2-wheel drive, brushed electric motor, Traxxas Id Power Cell Battery
Rustler VXL
2-wheel drive, brushless electric motor, Traxxas Stability Management (TSM) and Traxxas Id Power Cell Battery
Nitro Rustler (with TSM)
2-wheel drive, nitro engine, Traxxas Stability Management (TSM)
Rustler 4×4
4-wheel drive, brushed electric motor, Traxxas Stability Management (TSM) and Traxxas Id Power Cell Battery
Rustler 4×4 VXL
2-wheel drive, brushless electric motor, Traxxas Stability Management (TSM) and Traxxas Id Power Cell Battery
The Traxxas Nitro Sport (1/10 Scale, Nitro) has a similar design to the Rustler, with a 2-wheel drive Nitro engine.
Traxxas Stampede, Traxxas E-Maxx, Traxxas T-Maxx, Traxxas Summit
These large Traxxas RC trucks are built to handle harsh off-road conditions. They are the perfect choice for anyone who wants to test their RC skills on rocky hills. They are also great for running over jumps. A little more detail on these off-roaders:
Traxxas Stampede
A tough truck available as the Stampede, Stampede VXL, Stampede 4×4, Stampede 4×4 VXL, and Nitro Stampede. The difference between each one being 2-wheel vs. 4-wheel, electric vs. Nitro, and brushed vs. brushless (for electric motors). Other models include the Craniac, Skully, and Bigfoot, which feature unique designs.
Traxxas E-Maxx, Traxxas T-Maxx, and Traxxas X-Maxx
This model has a lower center of gravity than the Stampede. It is available as the E-Maxx (4-wheel drive, Brushed electric motor, Traxxas Stability Management) and the E-Maxx Brushless (same specs but Brushless motor). The T-Maxx is the nitro version of this truck. The X-Maxx is a larger-scale version (electric).
Traxxas Summit (1/16 & 1/10 Scale, Electric)
This truck has a great design, with massive struts and axles attaching the wheels to the car. It is a serious off-roader with plenty of clearance.
Traxxas E-Revo, Traxxas E-Revo 2.0, and Traxxas Jato
The Traxxas E-Revo and Jato are off-road vehicles built for speed. They have wide tires, a low profile, and robust engines. The E-Revo is available in 1/16 & 1/10 scale, and with 4WD electric motors. The E-Revo 2.0 is a brushless electric motor with an updated body, wheels, and tires.
2. Think about where you will be driving the car
The kinds of terrain that you intend to drive over will play a role in determining which type of car will be best to buy.
If you want to race on cement or tarmac at high speeds, choose a low profile car with a broad wheelbase.
If you want to go off-road most of the time, choose a car with a heavy-duty chassis, lots of body clearance, and massive tires with chunky tread.
If you want to do both on-road and off-road, choose something a hybrid car like the Rustler, Slash or Stampede, which excels in all kinds of conditions.
3. Nitro or Electric?
Traxxas offers both electric and nitro RC cars. Electric cars use a battery as a power source while Nitro cars use nitromethane fuel (similar to gasoline). Both options have pros and cons.
Electric engines are quite simple in design, which makes them extremely reliable. They are simple to operate, very safe, and usually water-resistant or waterproof. The modern NiMH or lithium batteries they contain are mighty and can last several hours.
When it comes to electric engines, there are brushed and brushless models available. The "brushed" engines have small contact brushes that allow the electric motor to spin. Unfortunately, these brushes generate heat due to friction, which affects the performance of the engine. The "brushless" models use a large permanent magnet to make a rotor spin. There is no friction, allowing the engine to generate more power from the same energy source.
Nitro engines are much more complicated as they have carburetors, pistons, crankshafts, air filters, a fuel tank, and other components. But the advantage of this type of engine is that you can continue topping up the car's fuel and run it for a very long time. If you have an electric car, you may need time to recharge your batteries or use multiple sets of batteries if you are driving for many hours.
Nitro cars also tend to be easier to overhaul and modify (which is useful for advanced RC enthusiasts). Of course, the negative side of the complexity of nitro engines is that more things can break, and there is more maintenance involved. The complexity and upkeep can make Nitro a poor choice if you don't want to tinker with the engine.
4. Consider the type of battery used
If you do opt for an electric car, you will have to choose between a LiPo (Lithium Polymer) and NiMH (Nickel-Metal Hydride) battery. NiMH battery packs use cylindrical 1.2-volt cells that look similar to AA batteries that you might put into a TV remote control.
NiMH batteries contain very rugged and reliable cells. Traxxas NiMH batteries come with six cells (7.2 volts), seven cells (8.4 volts), or eight cells (9.6 volts).
LiPo is the more recent battery chemistry. They use flat 3.7 volt cells enclosed in a semi-rigid wrap. Traxxas offers LiPo batteries with 2-cell (7.4 volts), 3-cell (11.1v), and 4-cell (14.8v) configurations.
The advantage of using LiPo batteries is that they have a high energy density than NiMH. That means you can have a higher battery capacity in your RC car at a lower weight. LiPo batteries can sustain their voltage for a longer time. The sustained voltage will help your vehicle retain its acceleration and speed longer than a car running NiMH batteries. The main limitation with LiPo batteries is that they can get damaged from over-discharging. Traxxas uses a low-voltage detection system to avoid this issue.
5. Durability and reliability
There are countless stories of RC car enthusiasts being disappointed by their car failing after it goes off a high jump or when exposed to water. Fortunately, Traxxas RC cars are on the hardier side, with very durable construction and water-resistant/waterproof components. This robust construction makes them much more reliable than many other products on the market.
6. Traxxas Stability Management (TSM)
Some Traxxas models come with TSM. This feature makes it easier to control your vehicle on slippery surfaces. It will sense the car's direction and making acceleration adjustments to prevent spinouts and loss of control. It is a handy feature if you often drive on slippery surfaces.
7. Cost
Traxxas remote control cars are premium products that range in price from about $125 to $600 ($600+ for some limited edition or high-performance vehicles). However, even the cheapest products in the Traxxas range are durable, reliable, and perform exceptionally well.
In general terms, the higher your budget, the better the features on the vehicle in question. More expensive models have brushless motors, better suspension, 4WD, better batteries, and more unique designs.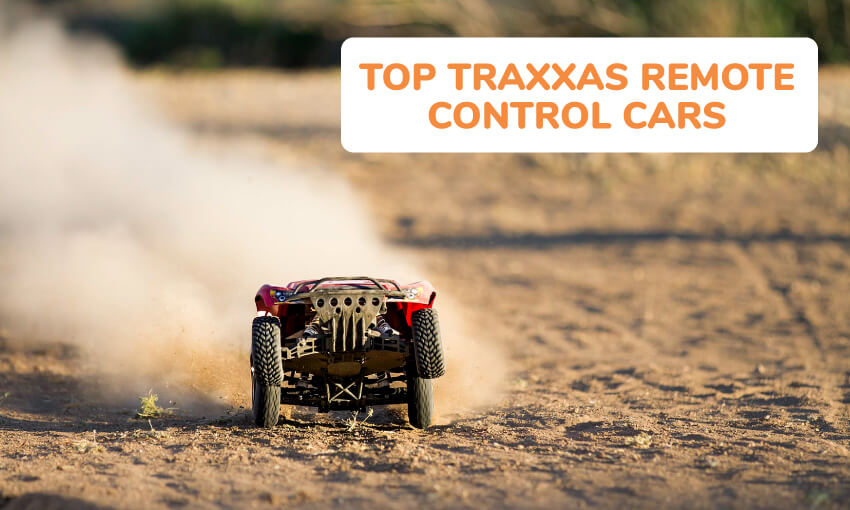 Five Best Traxxas RC Cars
We've carefully gone through the Traxxas range and researched each car to find the five best Traxxas RC cars currently available. These cars have the right combination of looks, performance, and construction quality to deliver many hours of fun.
Traxxas Slash 4X4 1/10 Short Course Truck (Platinum Edition)
The Traxxas Slash 4×4 is one of the most powerful vehicles produced by the company. It is a short course race truck that has a brushless VXL electric motor capable of achieving speeds up to 60 mph speeds (with 3 x 11.1V LiPo batteries). This motor also comes with waterproof electronics and low-voltage protection to keep your batteries safe.
Over the motor is a rigid LCG chassis with adjustable sway bars. Silicone sealant gets added to all the sensitive parts, including the differential, which improves reliability. The hard-anodized aluminum GTR shocks are also built to a high standard and will handle virtually anything you throw at them.
The Slash has a unique clear polycarbonate body that you can decorate as you see fit. The wide axle and low profile of the body make it aerodynamic with plenty of stability. It is a 1:10 scale car that is ideal for racing. The precision 2.4 GHz control radio system makes it easy to control the vehicle. Batteries not included, but I'd recommend using LiPo. Check out the Traxxas Slash 4X4 1/10 Short Course Truck.
Pros:
Waterproof housing
Maximum speed 60 mph with 3 x 11.1V LiPo batteries
Excellent traction thanks to wide axle
Battery Life 45 minutes on 5000 mAh battery, 20 minutes on 3000 mAh (NiMH)
Cons:
Dirt and debris can creep up under the body, so cleaning is occasionally required
Traxxas 1/10 Scale TRX-4 Scale and Trail Crawler
If you want to test your four-wheel driving skills using a realistic remote-controlled car, check out the TRX-4. It is modeled after the Land Rover Defender and manages to capture the look of that classic vehicle perfectly. It is a realistic model with fully functional accessories, including a spare tire strapped to the back of the vehicle.
It uses a powerful 21T Titan 550 motor that can accept 6 to 7-cell NiMH or 2 to 3-cell LiPo batteries. This 2-speed brushed motor is capable of speeds up to 9 mph when using a 2S LiPo battery. It has five drive profiles, so you can choose a mode ideal for the terrain you are driving in. Similar to most Traxxas RC cars, it has waterproof electronics, which make it possible to drive your car in muddy conditions.
The chassis is one of Traxxas' best. It features heavy-duty steel frame rails, an adjustable wheelbase, floor pans, heavy-duty steel links, aluminum scale shocks, and precision hardware. The driveline has a perfect design for tough terrain, with portal axels, hardened steel U-Joints, sealed ball bearings, a high/low transmission, and much more. It is an absolute beast for off-roading! Check out the Traxxas 1/10 Scale TRX-4 Scale and Trail Crawler.
An absolute beast for off-roading
Looks incredibly realistic
Maximum speed 5 mph in low, 9 mph in high with 2S LiPo
Battery Life of 2 hours with a Traxxas 3S 5000mAh iD LiPo battery pack
Cons:
Expensive
It doesn't come with a home charger
Traxxas Stampede 4X4 1/10 Monster Truck
Sale
Remote-controlled monster trucks are so much fun to drive. Jumping over ramps and traversing huge rocks with a tough-as-a-tank RC truck is a great experience.
When it comes to RC monster trucks, they don't get much better than the Traxxas Stampede. The Stampede is a super-rugged RC truck that is capable of breakneck speeds thanks to its brushless VXL motor (30+ MPH with 3 x 11.1V LiPo batteries).
They get built to last, with sealed differentials, powerful shocks, a four-position wheelie bat, a heavy-duty driveshaft, and waterproof electronics. It uses the reliable TQi 2.4GHz radio system and 5-channel receiver, which is highly responsive and gives you fingertip control over every movement.
This RC truck comes the TSM stability management. This system provides you with additional traction in the wet, which is very useful for a monster truck moving through muddy or slippery conditions at fast speeds. Check out the Traxxas Stampede 4×4.
Extremely tough
Plenty of clearance to handle ramps and tough terrain
Waterproof and sealed diffs
Built to last
Maximum speed 30+ mph with 7-cell NiMH battery or 60 mph with 3 x 11.1V LiPo batteries
Battery Life 30+ minutes with 5900mAh 2S LiPo, 20+ minutes with 4200mAh NiMH, 15+ minutes with 3000mAh NiMH
Cons:
Running at top speed can damage bearing carriers and driveshafts
It doesn't come with a home charger
Traxxas Slash 2WD 1/10-Scale Short Course Racing Truck
If you want to race your friends around technical courses that include jumps, rocks, and other obstacles, check out the Traxxas Slash. This short course racing truck is designed to perform well at high speed with its Magnum 272 transmission with Revo-Spec Torque-Control slipper clutch and Titan 12-Turn 550 Modified Motor.
The Traxxas Slash is kept glued to the ground thanks to its long wheelbase, satin-finish 2.2″ Slash wheels, and powder coated shocks. The water-sealed receiver box and steering servo, metal gear Magnum 272™ transmission, and ultra-tough ProGraphix® truck body ensure that the car will last a long time. The engine also has an integrated fan to keep temperatures down, resulting in extended motor life. Check out the Traxxas Slash 2WD.
Excellent traction and tight cornering
Perfect for racing
Default maximum speed 30 mph, 40+ mph with 7-cell NiMH battery, 60 mph with 3 x 11.1V LiPo batteries
Battery Life 30+ minutes with 5900mAh 2S LiPo, 20+ minutes with 4200mAh NiMH, 15+ minutes with 3000mAh NiMH
Cons:
Two-wheel drive model does not perform as well as 4 wheel drive
It doesn't come with a home charger
Traxxas TRX-4 Ford Bronco 1/10 Trail and Scale — Sunset
The TRX-4 Bronco is another fantastic replica car from Traxxas with incredible attention to detail. It's the perfect RC car for anyone who loves classic cars, from young children to grandparents.
The TRX-4 Ford Bronco is built tough and designed to cross challenging terrain. It features a portal axle to increase ground clearance, adjustable wheelbase, steel frame rails, floor pans, steel links, and aluminum scale shocks. The high steering and drag links, raised center driveshafts, and tight steering angles give you even more flexibility.
The driveline is also designed to scale large rocks, with T-Lock remote locking differentials, high-low transmission, steel U-Joints, a twin friction plater slipper clutch, and sealed ball bearings. It is the perfect choice for outdoor fun! Check out the Traxxas TRX-4 Ford Bronco
Incredible attention to detail
A great looking paint job
Maximum speed five mph in low, nine mph in high with 2S LiPo
Battery Life of 2 hours with a Traxxas 3S 5000mAh iD LiPo battery pack
Cons:
It doesn't come with a home charger
Traxxas RT Frequently Asked Questions
Who invented Traxxas?
Jim Jenkins and David Katz founded the company. They are both dedicated RC car enthusiasts who wanted to make high-quality RC for the mass market.
Where is Traxxas made?
Many Traxxas components come from Taiwan to the United States for assembly. Strict quality control processes ensure that every RC car gets built to a high standard.
Are Traxxas RC cars good?
Traxxas is one of the world's leading manufacturers of remote control cars. They have built a reputation to produce RC cars of exceptional quality.
Are Traxxas batteries good?
One of the best reasons to buy a Traxxas is that most models allow you to use NiMH (Nickel-metal hybrid) or LiPo (Lithium Polymer) batteries. NiMH is safe and easy to use, but they do have a "memory effect," which means you need to fully charge them before storage. LiPo are high-performance batteries that are lightweight and hold a charge for a long time.
Are Traxxas batteries waterproof?
The electronics in all Traxxas cars are either water-resistant or waterproof.
Traxxas, what is VXL?
The "V" stands for Velineon, which is the brushless motor that most Traxxas RC cars use. The"XL" means it has an extra-large 550-sized motor.
What Traxxas should I get?
Consider your budget, the type of driving you would like to do (on-road vs. off-road), and what style of car you want.
Thanks for reading our guide on the Best Traxxas RC Car. Perhaps you would like some of our other posts: