Disclosure: This post may contain affiliate links, meaning I get a commission if you decide to purchase through my links, at no cost to you. As an Amazon Associate, I earn from qualifying purchases. Read the full disclosure here.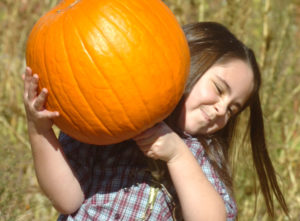 GUESS THE PUMPKIN'S WEIGHT!
Need:
Large pumpkin
Bathroom or science class scale
Slips of paper
Have children write their estimates of the pumpkin's weight on a slip of paper. Kids write their names on the paper, fold them, and place in a box. At the end of the time-frame, weigh the pumpkin and award a prize or give the pumpkin to the child with the closest guess.
---
YOUNG CHILDREN'S FALL 'TASTING PARTY' 
Pre-K to grade 1
You need:
Canned pumpkin
Grapes (green and red seedless)
Apples (various kinds
Pears
Canned corn
Table knives
Paper plates
Optional: Oak tag/card stock paper, Tacks or push pins
1. Help children cut the fruit and vegetables into small pieces and place on paper plates.
2. Ask children to observe and comment on the differences and similarities of texture, color, size, shape. etc.
3. Give each child a paper plate. Let them select from the variety of foods to taste. Encourage children to tasted the unfamiliar as well as favorites.
4. Have a discussion after the tasting party.
Talk about how they look, taste, smell and feel. Encourage the use of such words as sweet, sour, bumpy, smooth and so on.
---
DOES A PUMPKIN SINK OR FLOAT?
Fill a large clear storage container or aquarium with water. (If the weather is warm, you can do it outside). Have children make predictions of what will happen and graph the predictions. Do the experiments to determine if they were right or not.
Make it interesting and get a few pumpkin sizes.
You may hear predictions that the smaller pumpkins will float and the large will sink. (Pumpkins float)
Talk about why they float… If older kids know the answers… have them run the activity. The pumpkin (and watermelon) will float because its mass is less than the mass of water it displaces. This is due primarily because the inside of the pumpkin and melon are hollow. It is mostly air, which has a much lower mass than water.
YOU CAN ALSO ADD OTHER AUTUMN ITEMS such as canned pumpkin and cranberry sauce, nuts, acorns, pine-cones,  cranberries, bark, corn, stones, grass and sticks. etc.
Pumpkins are fun. A pumpkin (watermelon too) will float because its mass is less than the mass of water it displaces. This is due primarily because the inside of the pumpkin and melon are hollow. It is mostly air, which has a much lower mass than water.
---
GROWING IN A PUMPKIN!
Start this about two weeks before Halloween
Materials:
1 small pumpkin for each child or experiment
Paint
Cotton Batting
Mustard, Watercress or birdseed
Water
Cut the top off the pumpkin and  clean out the seeds.
Paint a face on the pumpkin if it is Halloween project. If it is for Fall/Autumn, leave it natural.
Fill the pumpkin with cotton and spray with water.
Sprinkle the seeds on the batting.
Keep the batting moist, and seeds will sprout in about 2 weeks or sooner….just in time for Halloween!
---
LEFT-OVER  PUMPKIN SEEDS!
You can quickly make pumpkin seeds in your microwave. The shells are edible — and a good source of fiber. You can also use this method with other seeds such as acorn squash and butternut squash also.
Ingredients:
1 cup pumpkin seeds, 1 Tbsp. Olive oil or butter, Salt, seasoned salt, garlic /onion powder or other seasonings to your choice.
Rinse pumpkin seeds. Remove all the pulp. Drain the seeds and discard the pulp. Spread out on paper towel on a cookie sheet and dry them over-night. Place butter or Olive Oil in a microwave-safe, baking dish.
Microwave on high about 7 to 8 minutes or until seeds are toasted a light golden color. Be sure to stir every 2 minutes as they are cooking. When done, sprinkle with your choice of seasonings. Coat evenly. Cool them before eating or storing. They can be stored in an airtight container at room temperature up to 3 months or refrigerate up to 1 year.
If you like your toasted pumpkin seeds extra-salty, soak them overnight in a solution of 1/4 cup salt to 2 cups of water. Dry an additional day, and follow the above directions.
---
SPROUTING INDIAN CORN
Place the Indian Corn on its side in rectangular baking dish or similar container.  Put water in to cover the bottom of dish and then place it in a sunny spot. The corn will sprout in about a week. A good idea to provide a magnifying glass for close inspection. As corn sprouts some of the kernels fall of…this activity gives children a chance to handle and closely observe the sprouting corn. Kids like this one!
NOTE: I tested this activity with Indian corn that was about six years old–and it still sprouted! (The corn was part of my fall decorating collection…) Image by KidActivities.net
---
SPROUTING POPCORN KERNEL- Place dirt in a small zip lock bag. Add water and a few kernels of popcorn. Seal the bag and hang in sunny window. The popcorn kernels will begin to sprout in about a week.
---
PLANT  BULBS IN THE FALL
With the approach of fall, now is the time to get those bulbs in the ground for spring blossoms such as tulips, hyacinths, daffodils and lilies. When flowers welcome next spring-you'll be happy that you did!
For the best results:
Plant before the first frost.
Dig a trench and place the soil on a plastic sheet.
Place the bulbs in the trench according to your design, but don't let them touch. Make sure they are facing the right way up.
Replace the soil.
Now all you have to do is wait for spring to see healthy green sprouts that will grow into colorful flowers!
Water thoroughly. You can also add a layer of mulch to keep the bulbs moist.
---
TURN A PROTECTED SECTION of your program, home, or school yard into a nature shelter…
In the cold weather- birds, squirrels and other small wildlife are in constant search of food, fresh water and safe shelter. Set up a bird feeder, bird bath and bird house where you and the children will be able to quietly observe. Youth enjoy watching different animals seek the food and water and your bird house will be there when needed.
---
AUTUMN SUNFLOWERS
Celebrate sunflowers by planting several varieties and sizes.
Cut up seed catalogs to visually plan the garden.
Turn the  garden into a bird-feeding haven for the fall.
Add a bird bath, bird ornaments, and birdhouses. (See SUNFLOWER CATEGORY for other ideas)
FYI: In a warm temperate climate sunflowers grow from seed to flowering stage in about three months –and another six weeks until the seeds mature in the flower head. This relates to the giant flowering types-some of the smaller varieties are quicker to mature.
---
COLLECT LEAVES…
Go on a nature walk and collect different kinds of leaves. Sort the leaves by color, size or type of leaf. Place them on your science table.
Extension Ideas: GRAPH THE LEAVES
1. Have children count the number of leaves collected from each type of tree. Graph the results.
2. Get young children thinking about what they collected. Ask questions such as:
What can you tell me about these leaves?  What is the same about these leaves?  What is different about some of these leaves?
What colors are the leaves?  Look through the magnifying glass, what do you see? (veins, colors, size of the leaf seems to change)
How can we measure this leaf? Can someone demostrate (show me) how to measure this leaf?  How long it is?  How wide it is?  (This leaf is __ inches/centimeters in length and __ in width.)
---
PRESERVING LEAVES
THE OLD FASHIONED WAY:
Place your autumn colored leaves between two layers of wax paper.
Cover with a cloth rag. Using a warm (not too hot) iron, press down on the wax covered leaves, sealing the wax paper together with the leaf in between.
Cut your leaves out, leaving a narrow margin of wax paper around the leaf edge.
---
MICRO-WAVE METHOD
You can preserve fall leaves in your microwave oven.
Choose fresh leaves with the bright colors. Avoid fallen leaves that have already begun to dry.
Place separate leaves in the Microwave oven on top of two pieces of paper towel. Cover them with one sheet of paper toweling.
Run the oven for 30 to 180 seconds. Microwaves vary so watch carefully. The drier the leaves, the less time they will need.
Be careful, if the leaves "cook" too long you could actually start a fire.
If the leaves are curled on the edges they need more time.
Let the leaves dry for a day or two and then finish the leaves with a sealant, such as an acrylic craft spray.
Source: Amazingmoms.com
---
NATURE ART
NATURE COLLAGE
Find: Twigs, leaves, small pine cones, nuts, etc.
Glue them onto tag board cut into wreath shape (or any design). This shows children how to collect items from the ground without damaging the environment.
You can also peel off the backing of contact paper and adhere the nature items to the sticky side.
Cut cardboard and frame either method.
---
USE LEAVES AS PAINT BRUSHES
Collect leaves with long stems. Have children paint with the leaves, using the leaves as brushes and the stems as handles.
Or…Collect leaves and tape them to a small stick and use them instead of brushes for painting.
---
COLLECTING TIP!
FALL IS THE TIME to collect the leaves, pine cones, seeds, sticks, etc. for your craft projects for Fall and Winter!  Gather all you can…You'll be glad that you did!
---
FALL NATURE BRACELETS 
1. Wrap a piece of masking tape (sticky side out) around each child's wrist. Go on a nature walk and have children collect a leaf from each of several trees—sticking it on their leaf bracelet.
2. Get a Book with a variety of leaves to compare "finds" when you return.
3. will also be able to go home and see what leaves they find there! As shown, you can take clear packing tape and make bracelets with a variey of nature finds–as well as some wonderful bookmarks!
Photographs are courtesy of Angela at Colorfool  blogsite…Thank you Angela! Angela shares that flat items adhere better than bulky.
---
THE EARTH'S WONDERS
Display natural earth wonders such as :
Sea shells, rocks, crystals, geodes, pine cones, seeds, twigs, etc.
Encourage children to add to the collection. Provide magnifying glasses to study the items at this center…Photograph courtesy of Restoration Place.
---
You may also want to check the Fall Art and Craft Category  There are many ideas using nature items of leaves, seeds, etc.
---
IF YOU FIND A CATERILLAR in late summer to late fall, put fresh leaves in a tank or fish bowl with a few twigs on which to make a chrysalis.
Ask children what they think happen? Ask them what will happen later?
We have done this with our group in the fall. They found a caterpillar outside in early October and brought it in. We put it in a large clear bowl and after the week-end it had made a chrysalis hanging from a twig. Kids  eagerly waited for spring so the butterfly could hatch! Sarah/Oakbrook
---
CONTRAST LEAVES…

COLLECT GREEN LEAVES and place them on a tray to dry…. Over time they'll turn brown; without chlorophyll the leaf loses his green color.
---
GLYCERIN LEAVES
Place a small branch with fall leaves on several layers of newspapers. With a hammer tap the end of the stem until it is slightly crushed.
Place the branch in a jar or baking dish with one part glycerin to two parts water. Keep it for 2 weeks. The leaves will be thicker to touch, colors will have changed & they will not disintegrate or fade..
In the autumn, you can also gather branches of oak, beech, and maple leaves just as the colors began to turn. Submerge them in vases filled with a solution of equal parts of water and glycerin. Over the next week, watch the color metamorphose as the chlorophyll ceased production, triggering the release of pigments. The glycerin, an emollient, fills the cells, rendering them supple and leathery. Leaves will last for years this way, more so if pressed.
---
FALL SCIENCE AND NATURE FUN WITH APPLES!
GUESS THE NUMBER OF SEEDS IN AN APPLE!
Discuss the growth of an apple tree from seed to tree— to apple and back.
Show the apple and have the kids guess the number of seeds in it.
Cut open the apple and find out how many there really are.
You can have apple slices for snack! (Try them spread with peanut butter or sprinkled with cinnamon and sugar)
---
'APPLE SEED' GUESSING CONTEST! 
You can also turn the above into a contest, by LEAVING THE APPLE OUT…HAVE THE CHILDREN GUESS THE NUMBER OF SEEDS in the apple—- and then put their guesses in a container. After all have guessed—proceed as above.
---
APPLE TASTING AND CHARTING…
Bring in LARGE VARIETY of apples. (During peek season there are many-many!) Have children taste them and see which one they like the best. With older kids you can chart and tally the results. You can also do this with applesauce (flavored vs. unflavored and also taste test cider vs. apple juice.

---
APPLE GRAPH – Math for the young
Make a chart by putting a picture of three different colored apples at the top.
Have each child's name written down the left hand margin.
Pass out a slice of each type of apple and then have each child tell you which was his favorite apple. (red, yellow or green)
Tally up the results and make a total at the bottom of each column. You can get the colored sticker labels from the stationery store for the children to use to put on the chart. If they like a red apple, they place their red circle sticker under the red, yellow circle sticker under the yellow apple, etc. They enjoy doing this because they get to use stickers—but they also get to taste a variety of apples!
Click here for tons of 'Apple Fun' Ideas…Games, Art, Crafts, Snacks, and so much more!
SaveSave