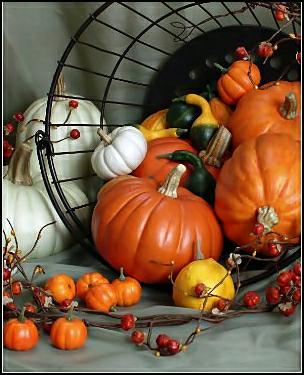 Autumn and Thanksgiving Centerpieces 
These autumn and Thanksgiving centerpieces for kids are a great way to get kids into the season. Get the kids to use their creativity with these centerpiece decoration ideas. I personally like  Autumn to last as long as possible–to go from late September all the way to Thanksgiving! I don't want it to stop at Halloween. Love Halloween but want Fall to last longer!
So decorating  is focused on–baskets and pottery filled with uncarved pumpkins, fruit, vegetables, gourds, Indian corn, walnuts and seed balls of nature, dried flowers and foliage. Add raffia, berries, Fall colored ribbon, candles, seasonal candy, and rustic accessories…(Barb)
---
1. MAKE AN APPLE CANDLE HOLDER for your Holiday Table
This table centerpiece is short lived —but pretty while it lasts.
Materials:
Large Rome Beauty apples (that will stand straight on the table)
Candles
Waxed paper and potato peeler
Lemon juice
1. Using an apple corer, make a hole about halfway through the middle of an apple. Make the hole as straight as possible and remove the core piece.
2. Insert a candle into the hole. It should fit tightly; if the hole is too large, wrap waxed paper around the candle's end.
3. Older kids can decorate the apples by carefully carving designs in the skins with the tip of a potato peeler (to prevent the designs from turning brown, rub them with lemon juice).
4. Arrange the candleholders in a circle on a plate or cutting board.
Make sure that the apples are stable. Cut the bottom accordingly if not.
---
2. CARVED OUT PUMPKINS MAKE GREAT 'VASES AND CANDLE HOLDERS'!
Thoroughly carve out a small to medium-sized, round pumpkin. Place a block of florist's foam inside the scooped pumpkin; place an assortment of harvest-themed artificial berries and flowers, available at arts and crafts stores, into the foam block. Abundantly fill the foam block so that you cannot see the opening of the pumpkin. This makes a festive Fall and Thanksgiving centerpiece–or wonderful outside decoration! If doing this for outdoors–just place flower pots inside of the hollowed-out pumpkins.
---
3. GLITTER PUMPKIN CENTERPIECE
Materials: Sponge brush, glitter, glue and wax paper
Lightly put glue on  entire  pumpkin while it sits on wax paper. Quickly sprinkle  glitter on the pumpkin.
(The sample uses Martha Stewart's powder glitter in penny, persimmon, orange, and pink champagne!)
Let dry and then brush off excess glitter.
Tie with ribbon and bow draping with long ends cut on diagonal.
---
4. AUTUMN CENTERPIECE …Something you can leave on your table all Fall!
An easy and pretty centerpiece for early October to Thanksgiving… is to pile gourds, pumpkins and silk leaves in the middle of the table and tumbling out of a basket. This centerpiece would be pretty piled on a serving tray/basket/dish! (This example is made with artificial gourds-by KidActivities.net)
---
5. Using the above centerpiece—set A WARM AUTUMN TABLE
Once you have a centerpiece–put together a lovely 'Autumn Table'…This table is set with Fall colors; more gourds and miniature pumpkins placed around the centerpiece. Votive candles add sparkle and candy corn is sprinkled about.
Note the canning jars which are hot glued to short glass candle sticks. (They can be seen in image on right through the water glass)  Candy corn is placed in the base of each jar and candles snuggled in… (The jars also have a variety of functional use. At the time of this writing–three jars hold Autumn candy and are placed on the coffee table. The goodies change with the season!)
---
6. FLOATING PUMPKIN CANDLES
Materials: Miniature pumpkins, votive candles, bowl(s) or buckets (depending on whether pumpkins are inside or outdoors), thin marker, knife
Purchase the amount of pumpkins you'll want for your table. Five to eight pumpkins should work for a table decoration. You may want more if floating them in buckets for an outdoor harvest theme. Also purchase the same amount of votive candles.
Place the candle over the top of the pumpkin and trace the circular shape onto the pumpkin. Using a knife, carefully cut out the circle so that a votive candle will fit securely into the hole. Do this with all the candles.
Fill bowls/pails with water. Light candles and float the pumpkins in the water.
---
7. SIMPLE AND BEAUTIFUL DECORATION
Just line up small white pumpkins along a wooden platter. To accent the gourds paleness –add a runner or fabric piece in a bright autumn color.
---
8. PAINTED PUMPKINS AND GOURDS
These almost look  ceramic-but they're painted. These were first spray-painted with Rust-Oleum Satin primer. After drying–they were spray painted with 'Heirllom white paint. What a lovely centerpiece! Source: SomeDay Crafts
---
9. FILL CLEAR JARS AND VASES with your favorite Autumn colored candy or Autumn Fruit!Wonderful as it also doubles as a welcoming snack or after-dinner treat!
---
10. SIMPLE AND PRETTY…
Wonderful on a coffee table. Pile up gourds and small pumpkins (real or artificial) on a tray or large flat basket. Add candles (or not)…Wonderful from late September to Thanksgiving!
---
11. GLAZED PUMPKINS… Tiny pumpkins or any small gourds can be colored in minutes with acrylic paints or permanent markers. The secret to their jewel-like sparkle is a finishing glaze applied after the paint or ink has thoroughly dried.
Materials: Miniature pumpkins in varying sizes and shapes
Foam brush
Acrylic paint
Rubber comb (available from craft stores)
Broad-tip permanent markers
Polyurethane glaze
1. Use a foam brush to apply acrylic paint evenly over pumpkin.
2. While paint is still wet, run a rubber comb around the pumpkin. Start from the stem and work from top to bottom. As an alternative to painting and combing, use a broad-tip marker to draw spirals or dots on the pumpkins, or go a little wild by drawing random lines in contrasting colors.
3. When paint or ink is dry, spray with a polyurethane glaze as a protective finish. (Source: sunset.com)
---
12. PUMPKIN TOPIARY 
Materials:
4-inch terra-cotta pot
Styrofoam piece to fit in pot
Wooden dowel or small tree branch
Miniature pumpkin
Hot-glue gun and hot-glue sticks
Dried beans or peas
Raffia
1. Use hot glue to secure the Styrofoam into the pot.
2. Make the "tree." Sharpen the end of the dowel or branch (trimming it to size if necessary). Push it into the bottom of the pumpkin. Push the other end of the dowel into the Styrofoam. Hot-glue the dowel to secure if necessary.
3. Add the finishing touches. Spread dried beans or peas over the top of the Styrofoam, gluing if desired. Using raffia, tie a bow around the dowel just below the pumpkin.
TIPS: You can replace the miniature pumpkins with small gourds. If you want your topiary to last for more than two weeks, use artificial vegetables or fruits.
---
13. AUTUMN CANDLE HOLDERS
Anchor pillar candles in a bed of candy corn or black and orange jelly beans for seasonal touches. Mix in with fall follage, gourds and pumpkins!
---
14. AUTUMN PORCH
To the right….A tall metal container filled with faux silk mums, sunflowers, and leaves–a few tall branches added for height.  Group pumpkins at the base –and perch a small happy scarecrow. (Both the metal container and Scare Crow are weighted–so even on a windy day—everything stays in place!
AND THEN….
FINISH WITH CORNSTALKS!
Do you have columns on your house? Simply tie corn stalks to them with twine… and add a scarecrow. Place tied dry corn cobs or an Autumn wreath on the door. Wonderful from October to Thanksgiving!
---
There you have it, 14 Autumn and Thanksgiving Centerpieces for Kids. These fall decor ideas are a great way to entertain and engage a child's creativity. Check out some more fall decorating ideas.
SaveSave