Disclosure: This post may contain affiliate links, meaning I get a commission if you decide to purchase through my links, at no cost to you. As an Amazon Associate, I earn from qualifying purchases. Read the full disclosure here.
Planning your Autumn/fall curriculum can be so easy! Base it around  the 'Month of____and Day of _____! Visit Doing the Days: September, October, November  There are activity ideas on the pages for each month!!!
---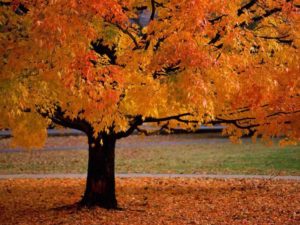 COLORFUL FALL PUZZLE TREE
An easy activity for fall!
We all have puzzles that have missing pieces (such as the 100 piece puzzle that only has 80 pieces left)
Cut out the trunk of a tree with limbs; glue or staple the trunk to a piece of background paper. Pre-paint the puzzle pieces in fall leaf colors (or they may already have a fall look) Glue the puzzle pieces to the branches of the tree.
(Also good for spring)
---
CLAY LEAF PRINTS
Use a rolling pin to flatten clay or DRYING TYPE dough. Lay a leaf on the clay & roll over it. Remove the leaf & let the clay dry. Paint the clay with fall colors of tempera.
"Air dry and bake recipes" are on this site in the Play Dough Thread!
---
LEAF MOBILE IDEAS:
Glue colorful and different fabrics to both sides of several pieces of heavy paper. Cut out leaves from this. Tie a string on each leaf. Suspend the leaves from a small branch. Hang them where they might catch a breeze.
You can also make the mobile with leaves cut out of construction paper or found outdoors. Preserving the leaves in the glycerin mixture found in the Fall Nature Category would make the leaves look fresh for quite awhile.
---
SUN PRINTS with PAPER TAPED TO WINDOW… 
MAKE LEAF PRINT ART…
Materials: Colored construction paper (make sure you use paper that will fade), leaves gathered from yard, glue stick, masking tape
Optional: picture frames.
1. Dab a bit of glue onto the back of a leaf, and attach to a piece of construction paper
(If you are going to frame–you can pre-trim the paper to fit a 5″x7″ frame–frames can be made from foam, cardboard or card-stock).
2. Tape the paper to a sunny window, with the leaf facing out. Leave up for THREE TO FOUR days, or UNTIL YOU NOTICE that the paper's color has faded. (Some directions say a week or longer–I think this time estimate would be more accurate–you'll know by the fading)
3. Remove from the window and gently peel the leaf off to reveal the print. Frame and hang.
This version from Parents Magazine, August 2005
---
FUNNY FACED GOURD
Use acrylic paints to make a face on a gourd. The gourds naturally have characteristics that create a funny face
---
CORNSTARCH IMPRESSIONS
Materials: Cornstarch, baking soda, water, saucepan, waxed paper, and nature objects such as leaves, twigs and flowers…
In a saucepan, mix together 1 cup cornstarch, 2 cups baking soda, and 1 1/4 cups water. Cook over medium heat until the mixture thickens. Cool, and then flatten mixture between sheets of waxed paper.
Have the children lay leaves, twigs, flowers or other nature objects on top of the cornstarch mixture and press them down firmly.
Have them remove the objects to see the detailed impressions they made.
---
WINDOW PAINTING
Paint a fall/harvest scene on your window. Use the following recipe and the paint is easily removed. Give each child (Or group of children) a window to decorate.
Window Paint: 2 Tbsp powdered tempera paint, 1 Tbsp warm water, 1 tsp Joy dish washing liquid Measure powdered paint into a container.
Mix in water thoroughly to achieve a smooth paste. Add JOY, mixing completely, but gently, to avoid making paint too sudsy.
 Dries on windows in 5 – 10 minutes. Washes off easily with a solution of water and vinegar.
---
TOOTHPICK TREE
Have the children make a tree by gluing toothpicks on a piece of paper. Use a sponge and fall colors of red, orange and yellow tempera paint…add leaves to the top of the tree.
---
AUTUMN NECKLACES Collect fall seeds and beans (even a milkweed pod or  two) and string them into necklaces. This necklace is made from colored pumpkin seeds
Materials:
Assorted seeds, beans, corn, bowl of hot water, colander, heavy thread, embroidery needle
The first step is to soften up the "beads" by soaking them in water. If you're using Indian corn kernels or dried beans (black and kidney beans work well), soak them overnight.
For seeds–try sunflower, pumpkin, squash and watermelon–first rinse, then soak them in hot water for about 15 minutes or until soft enough to poke a needle through the center. Drain and pat dry.
Double-thread the needle to the needed length of children's necklaces (big enough to fit over their heads), then knot the ends together, leaving a tail.
Children can string the seeds and beans onto the thread.
Leave enough room to tie the end of the thread to the tail.
Let necklace dry in a sunny spot for a day or two.
NOTE: Directions for Pumpkin coloring seeds are included in the 'Pumpkin Seed Mosaic Art'…it is 3/4 down this page)
---
NUTTY WIND CHIME Use fall tree seeds or nuts to make a wind chime.
Color a design on a tissue paper tube. Thread a length of yarn or string through the tube and knot the ends together to create a hanger. Next, wrap and glue one end of a length of ribbon aaround each nut you choose to use. Wrap and glue the opposite end of each ribbon around the cardboard tube. Hang the wind chime one glue completely dries.
---
YARN SHAPED LEAVES…
Materials:
Leaves
Thin cardboard
Pencil or pen
Scissors
Tacky glue
Colorful yarn
Adhesive magnet strips
Trace some leaves onto thin cardboard and cut them out.
Coat one side of the cardboard with tacky glue and let the glue dry after covering the shape with yarn.
Attach a strip of adhesive magnet to the back.
You can also us colored foam (green, red, yellow, orange), that is peel-and-stick. Peel the backing off and "paint" the yarn right to the foam, much easier and neater than glue.
Cut out the leaf shapes and paste them to background paper.
You can add heads, arms, and legs. Suggest that children have the leaf people engaged in some activity.
Click here for an entire LEAF/LEAVES THEME…
---
LEAF PEOPLE —Glue a leaf to a sheet of paper and draw features to make them into leaf people and animals... put arms, legs, necks, heads, tails, etc. when complete draw a scene around your leaf person!
---
LEAF PEOPLE #2 IDEA
Place your leaves UNDER sheets of white paper. Rub the sides of red, orange and yellow crayons on the paper — Rub over the leaves until leaf shapes appear.
---
LEAVES AND MELTED CRAYONS
Collect leaves and arrange them on a piece of wax paper.
Add wax crayon shavings and apply another piece of wax paper on top.
Iron the wax paper together until crayon shavings have melted.
Let cool. Trim into desired shapes and hang in windows.
---
LEAF BOOKMARK
Materials: construction paper, contact paper, leaves, scissors.
Cut the construction paper into 3×6 inch pieces. Have children collect leaves on a nature walk —and then arrange the leaves on the contact paper. Put the construction paper over the contact paper and cut around the edges. (See a very pretty leaf bookmark on clear contact paper here…)
---
COFFEE FILTER LEAFED TREE
Take coffee filters and cut them into the shapes of leaves.
With cups of liquid watercolors in orange, yellow, red, and brown have the children use eye droppers to place watercolors on the filter leaves.
The colors blend together for wonderful fall leaves.
Create a tree trunk out of brown wrapping paper or butcher paper. Add leaves to the branches and also at the base of the tree.
---
LEAF RUBBING
Have children place a variety of leaves -underside up – under a piece of light colored construction paper. With the sides of crayons that have had the paper covering removed, make crayon rubbing of the leaves. This works better with green leaves. Great way to see the veins and differences in leaves!
---
THREE FALL WREATHS
A FALL WELCOME WREATH FOR YOUR ROOM! (Easy)
Put toilet paper rolls, paint and brushes on a covered table.
When each child comes to the table; have them paint a TP roll using fall colors of red, orange and yellow. As the children finish, stand the rolls up on their ends— to dry completely.
When the rolls are dry, string them on a long piece of yarn and tie.
Wreaths can be any size!


---

FALL WREATH USING TISSUE PAPER SQUARES
Cut the centers out of paper plates (save center for another project)
Have the children glue crumpled red, orange and yellow tissue paper squares covering the entire plate rims. Attach yarn or ribbon loop to hang them!

---

MAKE A FALL NATURE WREATH (A little more work)
Materials: Paper plates, leaves, pine cones, acorns, bow, brown paint.

Go for a nature walk and gather fall leaves, acorns and pine cones.
To start the project, cut out the center of the paper plate. Paint the paper plates brown.
When the plates are dry, have children glue the items of fall nature. You can use a hot glue gun to glue any loose pieces and the bow.
---
FALL FACES…
Cut 4 1/2 inch circles out of construction paper. Collect a variety of fall leaves. Glue the circles on paper and glue some leaves around the circles to make hair. Complete the faces by adding facial features with markers or paint.
---
LEAF PLACEMAT
Have children glue several different leaves on a light-colored sheet of construction paper. Apply transparent Contact paper onto the leaf side and then the backside of the construction paper. Trim excess contact paper from the ends, and seal all the way around the outer edges with colored tape. (This sample is at PreschoolRock.com)
---
ALUMINUM FOIL LEAVES
You need:
Pieces of aluminum foil, leaves, glue, construction paper
Set out pieces of aluminum foil and a variety of fall leaves.
Have each child select a leaf, place it under a piece of foil, and gently press and rub the foil with their hand to get a leaf print.
Have  children glue their leaf prints to the construction paper
---
PINECONE OWLS
Need:
Large pinecones
glue
googly eyes
brown and yellow felt or craft foam sheets
Find pinecones that are flat enough to stand upright or snip off a small amount from the bottom so that it is flat enough to stand the cone on end.
Cut out circles from the brown felt or foam. The circles should be a little larger than the size of your googly eyes.
Glue the googly eyes onto the circles.
Cut out triangle shaped ears from the brown felt or foam and triangle shaped beaks from the yellow felt or foam.
Glue the eyes, ears and beaks onto the pinecones
---
NOT A CRAFT BUT A  WONDERFUL IDEA FOR YOUNG CHILDREN AND YOUNG AT HEART!
MAGIC PUMPKIN SEEDS 
Materials: Pumpkin seeds, small paper bag and small pumpkins
Show the children a small bag of pumpkin seeds and explain that you believe these are magic pumpkin seeds.
Take the children outside to the playground (or your yard) where they toss the seeds onto the ground. Have them make up a few magic words, if they want.
The next day, before children go outside–gather the seeds and put small pumpkins in their place.
Take the children outside and delight them with the 'magical' pumpkins that have grown.
If you have enough pumpkins, the children can take the pumpkins home and/or first decorate and paint them to add to theme of your space.
Idea adapted from preschoolrainbow.org
---
CORN ART IDEAS!
After eating corn on the cob, save the husks and corncobs, and let them dry. Have the children use them for art activities. You can also purchase feed corn on the cob at the local feed store.
Children roll the corn in paint and then roll or press it onto paper.
The ends of these cobs also make pretty flower prints.
Hang them and see if families can guess how they were made.
When all done with the project–rinse the corn cobs and leave them outside for the squirrels—no waste!
---
#2  CORN COLLAGE
Need:
Yellow and green construction paper
Glue
Un-popped popcorn
Cut a "corn cob" and "husks" out of paper.
Glue the "husks" around the "cob".
Spread the glue on the "cob" and cover it with un-popped popcorn
---
#3 AUTUMN CORN WELCOME SIGN…
Materials:
Leaf cutouts
Glue
Dried kernel corn
Write a greeting on a sheet of card-stock such as Happy Autumn…
Have the children glue the corn to form the letters of the words.
Glue leaf cutouts around the rest of the picture for decoration.
If you're looking for a short CORN THEME…check out ideas here!
---
HAND PRINT TREE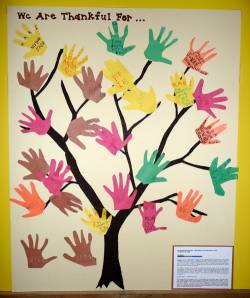 Using colored construction paper (red, orange, brown, green, yellow) trace the child's hand onto several sheets of several colors. Cut out. (Children can also use their painted hand-prints)
Next cut out a tree trunk with branches in proportion to the amount of leaves.
Have the child glue the hand shapes to the tree to form the leaves of the tree.
Consider having children think of things to be thankful for — and label the leaves.
---
FINGER PRINT TREE…Place child's entire hand and arm in brown paint. Place the painted arm and hand on the art paper to make the trunk and branches. With a variety of colorful finger paints-finger print leaves around and on the entire tree. Add some 'leaves' falling and swirling to the ground!
---
STRING OF LEAVES
Make a string of leaves to decorate a room. These simple-to-make strings make a great Fall or Thanksgiving decoration. You can drape the strings across rooms, over windows and from the chandeliers.
Need:
Construction paper (orange, red, yellow, brown, and other earth tones)
Crayons or markers
Scissors
Glue, tape, or staples
A long piece of green or brown yarn or string
Draw a leaf on a piece of construction paper. Make sure to draw a thick stem on the top (your leaf will hang from this stem, which will be folded over.) It would be a good idea to make a few leaf templates for the children to trace and cut the shapes.
Cut out the leaf. Draw the leaf veins if you wish.
Fold the leaf's stem in half.
Attach the leaf to a long string using tape, glue, or staples. Make more leaves and attach them to the string.
Hang your string of leaves across the room for a wonderful Fall decoration. Source: KinderCrafts
---
From Our Little Nature Nest comes this wonderful pumpkin seed mosaic art! Jenn from the site explains it best! She says…
You can use any large seeds like those from a pie pumpkin, or hard squash that you may have from cooking this fall. Dying them is simple. All you need is dried pumpkin seeds, food coloring, and vinegar. Place 1/4 to 1/2 cup water in small cups. Add a TBS of vinegar, and several drops of food coloring to the cups. Allow the dried seeds to soak in the colored water for 2 to 4 hours, then remove them from the water & allow them to dry over night. You then have a colorful, natural, free, craft item. You can make mosaics or necklaces with them. Some will dye a solid color & others will be speckled. Use a nice heavy paper like poster board or card stock to glue the mosaics to.
---
***In many parts of the country—there is warm weather for much of the year! If you're one of those fortunate people, check out the Activities for Summer. There are many ideas that you may be able to use!
---
FALL TREE THAT CHANGES WITH THE SEASONS
Make the tree trunk by cutting up brown paper bags. Wrinkle the paper and shape it into a tree trunk by stapling it to the bulletin board.
If if this is for a mural on a wall — attach it with lots of tape doubled over. If you want a plain painted tree–the following still is good!
FOR FALL… cut out paper apples and staple them on tree branches. Write the children's names on the apples…..And/Or… add tons and tons of leaves with names written on some of them. Add bushels of apples, and pumpkins… If up all year–as you change the tree–also change what is around the tree to go with the season!!! Go from bushels filled with apples, pumpkins, a scarecrow… to snowflakes and snowmen… to a spring scene with kites, butterflies and flowers!
This can be adapted to ANY SEASON. LEAVE THE TREE SCENE UP ALL YEAR… AND CHANGE IT AS THE MONTHS CHANGE! With a good tree base, you can take your apples and leaves off and have a BARE TREE for winter–add snow flakes, etc.—Then a spring tree and so on. I did one in a school hallway, on a wall space of about 8 feet long; it was wonderful all year! The school loved it! (Barb)
---
GINGER BREAD PLAYDOUGH (or call it Pumpkin Pie Scented Playdough)
(KA tested-it's wonderful and smells sooooo good!)
2 cups flour
1 cup salt
1 tbsp. ground ginger
1 tbsp. ground cinnamon
2 tbsp. vegetable oil
1 cup water
Mix together well and knead until smooth.
Note: At first it seemed it may be too wet; however, after putting a bit of flour on the hands and kneading—it came together wonderfully. The longer the girls played with it…the better it got! (Images by Kidactivities.net) This would be nice any time from Autumn until Valentine's Day!
---
VISIT THE AUTUMN CENTERPIECES & DECORATING that are good from late September to Thanksgiving… You may also be interested in the Autumn Leaf/Leaves Theme and/or the Autumn Pumpkin Theme…
SaveSave